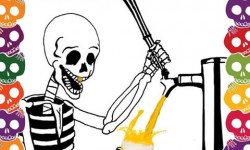 I don't drink except for special occasions and the occasions I think are special are beer festivals (beerfests). Beerfests are fun and they are a way to try a lot of different beers without getting drunk or drinking more than I want to. One of our favorite beerfests is the Portland International Beerfest. We always meet the friendliest and kindest people at the beerfests. This year I tried a lot of different beers that were excellent and a couple that just weren't to my liking.
The runaway winner for me was Nostradamus by Brasserie Caracole Brewery in Belgium (I do love Belgian beers). I got 4 tasters of it over the course of the day. Nostradamus is a Belgian Strong Ale and it is crisp and delicious with a hint of anise on the finish. The Belgian yeast comes through but is not too assertive. It's perfect for a summer day.
Another excellent beer I tried for the first time was from Epic brewery: Epicurean Coffee and Fig stout. I've had quite a few coffee beers because I like stouts rather a lot. I've never had a coffee beer that was so faithful to the flavor of coffee. I could smell espresso in the aroma before I even took the first drink. The flavor did not disappoint, I tasted coffee with just a hint of sweetness from the fig. The fig was rather overwhelmed by the coffee flavor, which I am ok with because I love coffee.
I also tried Samuel Smith's Organic Chocolate Stout. Chocolate is another flavor that I've had in a lot of beers, once again because I favor stout beers. I've never had a beer that preserved the flavor of the chocolate like this one though. It wasn't just a hint of dark chocolate in the finish of the beer, it was a chocolatey beer. It really tasted like chocolate and it was delicious. Cool, smooth, a bit malty and chocolaty; I really enjoyed it. I got 1.5 tasters of this one (the .5 involved a trade).
Next up: Mad Viking Night Raid (Cognac Barrel). I have to say I really enjoyed this beer. It was a heavy beer but then it is an Imperial Stout. It was really yummy with a bit of a bitterness on the finish. With an alcohol content of 11% I had to keep to just one taster of those–there were a lot of beers to try and I didn't want to be too tipsy.
The beer that I tried and traded was Olvisholt Lava, a smoked Imperial Stout. It really did taste like liquid smoke. Thankfully my soul mate liked it a great deal so he traded me for his Organic Chocolate and that's how I got .5 of a taster of that.
Feeling adventerous I tried the Dutchess de Bourgeon which is a Flander's Red beer but this one was made with bourgeon and boy could I taste it. It was one of the most interesting beers I tried at this beerfest. The first taste was really delicious and a bit sweet but a good kind of sweet for beer. Then the middle taste was this weird flavor that made me think of roast beef and I realized it was the bourgeon that I was tasting. My brain kind of got all confused because my tastebuds wanted to like it but there was a funky finish that made my brain think of something that's gone a bit past its good to eat date. I think it would be worth a try and it did get better as I drank more of it.
Sadly I made a tactical error in following this very strong flavored beer with a lighter beer. I went back to the Epic table and got their Brainless Peach beer and unfortunately it did not follow the Contessa very well at all. I found it disgusting but that could be because of the way the two beers mixed on my palette. A drink of water between those two tasters could have saved the day for the Brainless Peach beer. It was light and summery and I could get a hint of peach but it didn't beat you over the head with it.
From there I moved on to Andech Brewery's Dunkles Weissbier. That was delicious, smooth, light and just a wonderful beer. If I hadn't been so taken by the Nostradamus I would have gotten another taster of this one.
Saison brewing caught my attention next with their Saison the Beach which was a Saison made with candied ginger and peppercorns. Now I have only myself to blame for this one because I know I don't like pepper very much. I just thought there would be more ginger flavor in this beer and I really like ginger beers. A good, strong ginger flavor could be highlighted by a little bit of a peppercorn flavor but this beer was a strong peppercorn flavor. I couldn't taste the ginger at all. There was almost no sweetness and no ginger flavor. It was smooth but not to my taste at all. Please note this is not a flaw of the beer, it is just that I don't like peppercorns.
I tried to get a taste of Thor's Hammer Barleywine but they sold out the first day. Alas. Another time. The nice thing is that this whole beerfest was sponsored by John's Market and they'll likely have a lot of these brews for sale. The Portland International Beerfest remains our favorite in 2013. K.