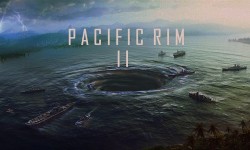 It has indeed been a few weeks since I last posted, gentle reader, and for that you have my apologies. I took what was supposed to be a brief 1 week break after the last con and then flu season caught up with me.
This week I'd like to talk about some exciting news regarding Pacific Rim. Namely that not only is a sequel in the works but apparently Pacific Rim III is also in the works. Also my sources (Collider) say that Pacific Rim II is due to start filming in the fall of 2015. (It does pay to keep one's ear to the nerd ground).
(Read the next line in Emperor Cusco's voice from The Emperor's New Groove) I'm so happy.
This is good and hopefully what will happen is that they will not release the next Godzilla movie the same year. There are three of those also planned. So far both the Pacific Rim sequel and the Godzilla sequel are slated for 2017. What would make this Kaiju loving fan very happy (not that anyone cares mind you) would be if the studio were to alternate years. This would keep movie audiences from getting Kaiju fatigue and spread out the treats so we get one each year instead of a bunch (read 2) in the same year.
Now about that scrapbooking. I used to do it way back in the day, when I had time, regular sleep, disposable income–you know, the good old days. I was recently looking back through one of my albums and asked myself an obvious question: Why am I not creating scrap book pages of my comic con adventures?
Also a quick and dirty update on my garden. This year I let it lay fallow. Fallow is code for, "I was too busy to put in my garden." I missed it too. The hummingbirds were back and nested in the same tree. My flowers, since I cleverly planted perennials, bloomed and were gorgeous. Sadly my Gunnera did not survive a very late and very surprising snow storm. My goals for next year are to get the garden space ready for spring and replant the Gunnera as well as some more flowers.
Thank you for your interest and patience. K.