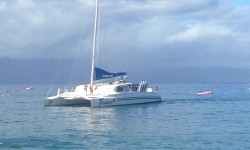 On our fourth and final day on the gorgeous island of Maui in Hawaii we decided to book a snorkeling excursion. Susan, our friendly island expert redeemed herself from the Road Less Travelled to Hana by suggesting Teralani Charters for our day trip to snorkel. If you are in Hawaii I highly recommend them for snorkeling excursions or whale watching. The entire day was simply delightful and the crew of the Teralani 2 was instrumental in making the experience amazing.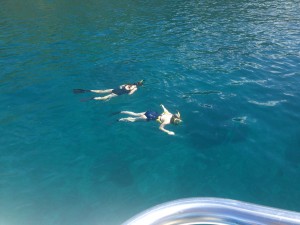 I confess I was a little anxious about snorkeling. Despite being a fairly accomplished swimmer, I have a fear of drowning and I also worried about getting caught in a current and getting swept out to sea. But I was also excited to push myself outside of my comfort zone and try something new. I didn't want to get home and regret missed opportunities.
The Teralani cruise we chartered included a continental breakfast and bar-b-q lunch (with the ever present Mai Tais among other drinks). So it was a good deal for the money. It started at 9:30 and went until 2:30 and included whale watching on the way out to the reef and back from the reef.
The crew of the Teralani 2, which was our particular catamaran, was extremely knowledgeable and friendly. They even had prescription goggles for those of us who need prescription lenses to see. They went over a quick tutorial on how to use the equipment and how to snorkel and they wisely didn't serve any alcohol until after our snorkeling was over and we were on the way back.
Once kitted out I got into the water and after a few moments of anxiety, learning to trust the equipment and breath with my face fully submerged using the mouth piece, I was able to become fully immersed in the wonders of the reef.
The water was crystal clear to the bottom, which was as far down as 50 feet in some places. I saw two kinds of sea turtles, including one humongous green sea turtle. There were parrotfish and triggerfish and schools of fish I couldn't identify. I wish I knew the names of some of the gorgeous fish I saw. There were corals too. I even saw fire coral. With my ears in the water I could still hear the sacred melody of whale song too.
Then after I followed behind a turtle I saw, circling far below me over the white sand bottom, two white tipped sharks. I couldn't believe it. I watched them in awe for a few minutes and then, because I am slow and potentially shaped like food in the eyes of a shark, I swam away. Our spotter, Eric, also saw them and he spoke with a couple of divers from another boat who said that the big one was 5 foot and the smaller one around 3 foot in length.
I cannot tell you how glad I am that I went on that snorkeling excursion. I'm glad that I didn't give in to my fears and I'm glad that I pushed myself to do something I had never considered doing until it was suggested to me. I swam with sharks and turtles; there were eels and even a puffer fish.
On the way back the captain went out of his way to give us plenty of opportunities to see whales and even some ocean going turtles swimming along. In spite of slathering up with sunscreen and reapplying it, I got righteous sunburn on the cruise but it was worth it. In the end I'm glad to say that I regret nothing about this trip. K