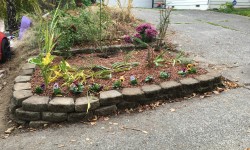 Last weekend I started a project to expand my raised bed flower garden. I installed the original raised bed quite a few years ago and as things changed I found myself able and motivated to expand it that last 10 inches. You can read about it
here
. Taking that wall apart and rebuilding it was backbreaking work.
Not to be outdone, this weekend I decided to finish up what I started last weekend. There was one corner on the upper left side that had not been finished. It was super difficult to get the established weeds out of that spot and the little bit of rain we got wasn't enough to soak the soil and make it any easier to get them out.
There was also a third level of raised bed that had sunk into the soil over the intervening years and I decided to unearth those blocks and raise them up a bit. All of this along with my intention to weed a small area each weekend until I have the whole thing weed free.
Also, I bought a bunch of pansies. Winter pansies to be specific. They should bloom all through the winter. Plus I got to quote the movie Madagascar where King Julian says, "They're just a bunch of pansies," until everyone around me was sick of hearing it. The pansies were on sale so I got 10 of them for less than 10 dollars.
Intending to only spend a couple of hours on this finishing up project, I ended up spending half the day on it. The results are so nice though. It looks finished.
I still have a few of the decorative blocks left over and I'm going to clean them up and finish up the back level next weekend. Because I purchased a rather large amount of them when I made the original purchase years ago I've been able to reuse the blocks, moving them from one spot to another and this has saved me quite a bit of money. I did not have to purchase any more of them.
I was planning on using the ones that hadn't been put into the wall as bases for the rain catchment system I'm putting in this year but that's not going to happen now. I'll have to see if I can find a low cost replacement for my rain catchment barrels. That's my next garden project.
I did a lot of research on rain catchment systems and while I can't afford to have a professional outfit come out and install an underground tank and all that, I do have the budget (thanks to Craigslist) to get a couple of 55 gallon barrels and the downspout kits for them. The important thing about this, well there are several but when putting things next to one's house one very important thing is weight. A full 55 gallon rain barrel weighs in at around 450 pounds. So you don't want to set it on a slope or someplace unstable. You want to make your foundation stand sturdy and level from all angles.
Anyway more on that when I get to installing them. I'm also planning to do a year of my first garden recap when I get the vegetable garden cleaned up and ready for winter. I'm about half way through that now. I've got a few tomatoes I'm hoping still ripen up a bit before I have to tear the plants out.
At the end of the day, because I'm clearly a glutton for punishment, I sat down and ordered a few small things to plant in the spring so that I have some summer flowers too. Tulips and lilies are gorgeous but they bloom in the spring and I need something to carry my garden through the summer with some flowers. We've already established that I never fail to order twice as many bulbs as I want to plant but this time I out did myself.
You see one of the flowers I love the most in my garden is a blue dutch iris. I've only got one and I've not found them online or in the garden centers by themselves. They always come in a mix and I always get a ton of white and yellow and almost no blue in the mix when I buy them. The white and yellow are gorgeous but my favorite are the blue. Well this catalogue had blue ones on sale by themselves and they were fairly inexpensive: $15.99. Seems like a no-brainer, right? Well I did order them but come spring, when they arrive to be planted, they will be coming in a lot of 50 bulbs. Thankfully I have a great spot for them and they are tolerant of partial shade.
Cosplay:
I've finally had another idea for a cosplay. Last time I did Mothra on a budget, which you can read about here. This time I think I can make a wearable Biollante Rose Form. I went through several design ideas, starting with a mermaid under dress. While gorgeous and the right shape for the understructure it would be a royal pain to wear to a convention, so I reluctantly discarded that idea. I'm currently working with a wide leg palazzo pant and tank top for the understructure.
My budget is $100.00 and my time limit is 5 months. I have to work my cosplay creating in around my gardening and right now is the ideal time for gardening. We will see how it goes. K.