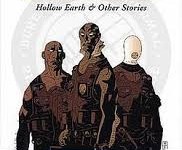 Comic Reviews: B.P.R.D. (The Bureau for Paranormal Research and Defense)
Hollow Earth and Other Stories
Mike Mignola is perhaps best known for his creation Hellboy published by Dark Horse Comics. One of the spin offs of Hellboy is the B.P.R.D., which features Abe Sapien and others who seek out the strange, paranormal and fantastic all over the world. Personally I like the B.P.R.D. better than Hellboy for reasons of personal taste, which is that I tend to like science fiction more than fantasy or horror so the more it leans towards science fiction the better I like it. The series kicked off in 2002 with Hollow Earth.
Mignola has a very distinctive artistic style that I find suits his stories very well. I was pleased to get to meet Mr. Mignola at the 2013 Emerald City Comic Con this last March and I got a signed book of his artwork.
B.P.R.D. Hollow Earth and Other Stories was penciled by Ryan Sook who helped ink it along with Curtis Arnold and it was colored by Dave Stewart. These men did a superlative job of creating the tone of the story. The shadowy, muted colors and odd angles with very little crispness speak to the hidden, otherworldly dimensions that exist within our own and might even be more real than what we know as reality. The artwork hints at things we cannot see clearly without being out of focus. This works well with stories that mix hints and whispers with myths and legends to create a world where nothing is quite what it seems and what we take for granted as normal is a veneer that hides what lies beneath the floors, behind the curtains, always under the surface.
The story, written by Mike Mignola, Christopher Golden and Tom Sniegoski is one of my favorite B.P.R.D. stories because it introduces Johann. Talk about a wild back story, Johann is just out there, even for the B.P.R.D. and we get to see Elizabeth too and she is brought in. The story starts out with Elizabeth in a monk temple and we are given a backstory that would do H.P. Lovecraft proud. This is the kind of thing I love, where an author makes their own mythology, plays with what has become embedded in the stories of different cultures and makes it new.
I know it's been out for a while but if you're looking for a good read, or just want to revisit an oldie but goodie I really think this is one to go to. It's also a pretty quick read. It's good to feed your imagination but sometimes hard to find the time to do it. This graphic novel, or these comic books depending upon what you can find, are pretty excellent. K.