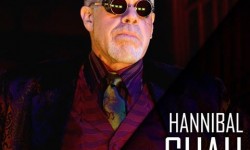 No that's not the official title for the latest teaser released about
Pacific Rim
but it could be. We are barbarians and honestly, if we were ever attacked by a hostile alien force of any extraplanetary origin, be it space or dimension, I can totally see a portion of our population going for something like this:
It's hysterically well done and I love Ron Perlman. He was fantastic in Hellboy and Beauty and the Beast the television series way back when. This is just genius but also a pointed reminder of just how awful we humans can be.
Any invading alien force would face not only unceasing resistance but at some point we will figure out how to commercialize them and then they are in real trouble. Just ask the Western Black Rhino which was officially declared extinct. Hunted to extinction for its horn and a few other bits and pieces for some of the conditions mentioned in this spoof advert for Pacific Rim.
I love the idea and it indicates that Pacific Rim is true science fiction, because science fiction is about more than just exciting weapons, technology, aliens, monsters or far away and exotic lands. Science Fiction always tells us something about ourselves. At least the best science fiction does and this gives me high hopes for Pacific Rim. Because to be honest, Kaiju and giant mechs was more than enough to get me into a theatre to see it. To find that it is true to the best science fiction has to offer just makes me even more anxious to see it. I have very high hopes for it. K.