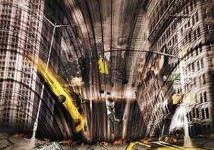 The Void is a third class b-movie. The worst kind: The Booby Trap. Here's the thing. I selected this movie on Netflix to see what was allegedly a movie about scientists accidentally creating a black hole on Earth. I was looking for disasterpiece theatre. If I want to watch people having sex: I'm over 18, I have access to non-basic cable, I also have access to a credit card and the internet. I would not be looking for a budget sci-fi thriller if I wanted to watch sex.
I don't like being suckered into watching sex when I want to see special effects about disasters and people finding ways to survive and maybe even saving the day. I find the third class b-movie offensive. Not because there is sex in them but because they lie to me about what the movie is actually about. I got more than half way in and no effects. No bad preliminary test runs of the machine, nothing to indicate the formula is wrong except one person talking about it. No ominous power issues–Nothing. Just sex and an evil corporate villain who is willing to kill to carry on with his experiments, which he now knows will go horribly wrong. Ho hum.
If your plot is so thin and your budget so tight that you have neither concepts nor footage of pending disasters happening, and you are filming a disaster movie, DO NOT PAD YOUR FILM WITH SEX. We, the viewers, are not stupid. We know what you're doing. We are not amused. Also gratuitous sex will not make a boring movie interesting. It just won't.
I did not finish watching The Void. I don't watch Booby Traps. If I want to see humans copulating I can turn on HBO or any number of other channels. Shoot I have Netflix I can chose movies that are at least honest about what most of the time in them is spent on.
In summation: avoid The Void. If you want to watch sex scenes there are far better out there. If you're looking for a good disaster movie–this is not it. K.