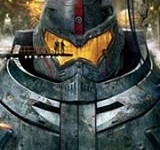 I'll be honest with you. I will watch every one of these they care to release. In fact I'll watch them more than once. I ran a few of them through the television and got goosebumps.
http://movies.yahoo.com/video/pacific-rim-anchorage-2020-182033023.html
Wow. Just wow. I'm seeing this movie tonight and all I can say, from what I've seen so far, is that anyone who doesn't like this movie doesn't understand the two genera's Guillermo del Toro has brought together. Which is ok, to each their own, but this looks like a gorgeous, exciting example of the genera of Kaiju movies and giant mechs movies. K.