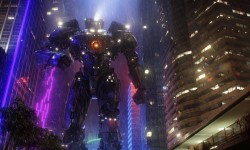 Those who have been following my blog know that I've been looking forward to
Pacific Rim
for almost a year now. I've wavered between childlike anticipation for a good Kaiju movie and cynical dread that the movie cannot possibly live up to its own hype. I saw it last night in IMAX 3D and it left me speechless. I couldn't even watch anything else for the rest of the evening. It more than lived up to its hype, it more than fulfilled its promise; it was the best monster movie I've ever seen in a lifetime of monster movie fandom.
I can imagine when the original Gojira was released it had the kind of impact on audiences that Pacific Rim had on me. When King Kong was released in 1933 there were reports of women fainting in the aisles. If fainting were still a fad I could see that happening at Pacific Rim. I was horrified and captivated by the Kaiju and their destruction of cities and their rampages across our world. The original Gojira portrayed how war devastates a nation with Godzilla the avatar for nuclear weapons. Godzilla was envisioned and always has been a force of nature. Pacific Rim remained true to that first Kaiju and portrayed the Kaiju and the Jaegers as avatars for nature. The damage done to cities where battles took place was breathtaking and terrible (not bad terrible but terrible as in terrible things were portrayed having happened).
The special effects were outstanding. This movie pushed CGI to its limits. And that's saying something when I've seen groundbreaking movies like The Matrix, the original Star Wars movies, the first Alien movie. I've seen Pink Floyd in concert; you want to talk about a spectacle. We exist in a world where we've seen it all and experienced it all on our televisions, in the theaters or on the internet, yet Pacific Rim easily broke through the jadedness of living in a time when we can watch terraforming machines at work in downtown Metropolis and Gotham city almost get nuked. Amongst all of that Pacific Rim is a spectacle and a unique one at that.
There was no point during that movie when I was convinced the Jaegers had the upper hand. Every single battle I was on the edge of my seat, just aghast at the melee; hoping, just hoping, the Jaeger would survive. I could almost visualize the metals of the Jaegers being compressed, bent, and twisted under the dreadful impacts they were forced to bear. I could almost feel the massive battering the Kaiju withstood. And still they kept coming back for more. There was no point in that movie when I felt the Kaiju would behave in a predictable fashion.
Pacific Rim is intense. It is overwhelming (in a good way). I was completely sucked into the story. The plot is strong enough to make the Kaiju-Jaeger battles a logical part of it. There was no point where it felt like just a thin excuse to string a bunch of epic battles together.
The characters were ones we've all seen before and some were staples of the genera. Godzilla movies almost universally have a strong woman who is a crucial player. The Gamera movies of the 1990's also had female leads in them. Pacific Rim paid homage to these great movies and went one better with a believable love story. If I were younger and not madly in love with my husband I would totally have a crush on Raleigh (Charlie Hunnam) after seeing Pacific Rim.
This wasn't the lame, totally ridiculous, and frankly insulting "love" story where the girl is grateful for being rescued and is the reward for the man who rescued her (barf). No this love story is the real deal about a meeting of equals who share similar pain in their pasts. This is about two people who fight together against terrible odds for a greater cause and so find that connection in their similarities and interest in their differences. This isn't about a man meeting (and getting) the object of his desire, but about two human beings finding a deeper connection. Well done del Toro, very well done.
Which brings me to Mako (RInko Kikuchi) who is the female lead in Pacific Rim. She was wonderful. Mako is very intelligent and doesn't downplay it to make all of the jocks around her feel better about themselves. She makes no excuses for her strength or her intelligence but rather expects everyone else to live up to their potential. There was one scene she is in where I knew what the outcome had to be and I still expected the Kaiju to do something differently than what I knew had happened. My emotions were so involved that my brain could not override them at that moment.
The Kaiju are everything they should be and everything they were promised to be. Each one is different, with a different personality and fighting style. Each one is more terrible than the last. They are amazing. They aren't just mindless monsters either. True to the genera they have an interesting and amazing history. Even though they were trying to wipe out humanity I still liked them. Oh sure, I wanted the Jaegers to defeat them, but they were horrible and wonderful and grotesque and beautiful all at once.
The Jaegers were awe-inspiring. I have an Engineering tech degree in civil engineering so I was particularly taken by the Jaegers. They were amazing and gorgeous and impossible and just awesome. I fell in love with each team of pilots. They were all so distinct. I know it seems strange, because some of the teams I got barely a glimpse of, but I did. When the Kaiju attacked cities it was horrific but when a Jaeger fell I felt more personally involved. After the Gipsy Danger team my favorites were the Russian team. They were stern and strong. They were two people who fought monsters and put their own lives in danger to protect their world.
This is where Pacific Rim is most unlike any other monster movie I've ever seen. I felt connected to those pilots. This wasn't like Godzilla beating up on King Ghidorah. These were people, not an army but individuals going up against these things. Even in Mechagodzilla I never got the sense of one or two people standing against the monsters like I did in Pacific Rim. Of course the special effects in Pacific Rim make the old Godzilla movies look like they were made in someone's basement (which is hardly fair because they were amazing for their day).
I'm still trying to process everything about Pacific Rim. I am going to see it again. It is very intense and a bit overwhelming so I would suggest taking that into consideration before taking younger people to see it. It's rated PG-13 but it is really intense, especially in IMAX 3D. It isn't very gory which is also true to the monster movie genera, although that only counts humans. There is a lot of Kaiju blood and it is a bit violent when it comes to Jaeger on Kaiju battles and Kaiju stomping through cities. There are some twists and turns along the way that are as unexpected as they are delightful.
Mostly it is a story about human beings who are facing extraordinary events, which is the heart of a lot of great stories. Idris Elba as Stacker Pentecost is fantastic, as expected, and Ron Pearlman as Hannibal Chau is just a scoundrel and as delightful as can be. I have to add that Burn Gorman played one of the two most classic characters in the movie: the German scientist Gottlieb. He did it to a "T." I know not a lot of people will feel the way I do about it but he really stole some of the scenes he was in just by being that familiar, uptight, almost mad scientist. Guillermo del Toro paired him with an arguably actual mad scientist: Doctor Newton Geiszler (Charlie Day). This was the scientist who practiced insane experiments on himself. Oh yes. You don't get more old school in a monster movie than that. The classics like
The Fly
and
The Invisible Man
and so many others had that premise.
Guillermo del Toro said he wanted to pay homage to the two great genera: Kaiju and giant mechs. He did that in a way that shows his own love for and understanding of the genera. As someone who has been a fan of both since I was a little girl this movie was the pinnacle of my Kaiju movie going experience to date. It was perfectly paced, well edited and the writing, the special effects, and the characters were all amazing. Go see this movie. Don't miss out on seeing it in the theatre and being blown away by the spectacle. K.