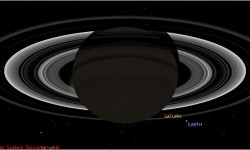 I love NASA. I really do. Astronomy has always fascinated me. One of the most beautiful pictures to come from NASA is the picture shot by Cassini in 2006 of Saturn backlit by the sun. I'm sure you've seen it before. Well on July 19, 2013 the Cassini spacecraft is going to take another photo of Saturn backlit by the sun and the Earth is going to be in the shot. A great deal of care must be taken when shooting a photograph like this because there is danger of blinding the cameras when looking back at the sun. Because of this pictures looking back towards the heart of our solar system are very rare. In fact NASA has only taken 2 of them. For this special third photograph NASA would like to make special by including all of us. The fine folks at NASA want us Earthlings to take pictures of ourselves waving at Cassini and send them to NASA via social media. You can read the details at the official
NASA website
.
Those who follow along on my blog will know that I'm also keeping track of an amazing movie coming out in 2014 called In Saturn's Rings. They're taking IMAX quality photos of Saturn and other objects taken by Cassini, millions of them, and creating a breathtaking real animation of what it would be like to go to Saturn. They also want your pictures of you waiving at Cassini and they want to put them in their movie. You can send your photos to their email at nfo@sv2studios.com
Also keep an eye on comet ISON. And you can do that real time at this fantastic website: The Sky Live. ISON is a new visitor to the inner solar system.
Here's the deal, and it is kind of a big deal; this November the solar system is putting on a show for us. A new comet will make its appearance in the fall and is called ISON, official designation C/2012 S1, named after the International Scientific Optical Network. According to NASA this is ISON's first trip into the inner solar system. ISON was discovered in September of 2012 by Russian astronomers Vitali Nevski and Artyom Novichonok. What's amazing is that we only just discovered this comet less than a year ago.
ISON is swinging towards the sun right now and is expected to pass very close at its perihelion. Once it comes around the other side, say around December, it may be bright enough to be visible to the naked eye even through the light pollution of being in a city. There is some speculation it might be visible during the day. Astronomers are hesitant to make any promises because it's impossible to tell what will happen when ISON goes around the sun but there is a good chance it could be huge.