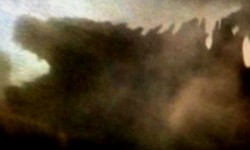 News about
Godzilla
coming out of the SDCC is that the new
Godzilla
has a cobra head. I do wish I could be there this year. Long time
Godzilla
fans know that the suit gets redesigned for just about every movie and many have their favorites. Personally I think the
Final Wars
suit is the best with the
Godzilla Against Mechagodzilla
suit running a close second. That being said this
Godzilla
, while not a suit, is at least a clear
Godzilla
; not like the Not Godzilla from the 1998 movie fiasco. Feel free to chime in with your favorite suit in the comments.
With the breathtaking effects on display in Guillermo del Toro's Pacific Rim, produced by Legendary films; I have high hopes for Gareth Edwards' Godzilla, which is using the same production company. It should be, given what we've seen so far, gorgeous, stunning and everything Godzilla should be as far as visuals.
Things are happening so quickly I simply cannot blog about them fast enough! So far this week in nerd movie news:
Sharknado 2 has been given the green light. This is no surprise since Sharknado, which I reviewed here and had posted also at The Geek Girl Project, was a surprise phenomenon for the SyFy channel. Sharknado was in the top three twitter trends for several days last week. According to the Guardian UK during the peak of the most exciting moments of Sharknado the viewers were clocking over 5000 tweets per minute. Also it seems that SyFy wants your tag suggestions for the sequel, as you can see in the above link. Audience participation like this is sheer genius on the part of their marketing team.
Asylum Films, who is the production company behind most of the SyFy original movies has announced that New York City will be the setting for the sequel. Because what's more fun than sharks in subways? Plus NYC is where the giant-alligators-in-the-sewers urban legends are centered and it's the home of C.H.U.D.. It's smart of SyFy to ride that wave for as long as they can.
I've seen a few trailers for
Elysium
(in theaters August 9th) and I have to say that I'm not really taken by what I've seen so far. The really strange thing about that is that I should love this movie. It's a great premise, the visuals look stunning and I adore Jodie Foster and Matt Damon. So what's my deal? I have no idea. Something about it is pushing me away though and I cannot pinpoint just what. I hope you, gentle reader, have a more positive reaction to it because it looks like it should be fantastic.
Gravity
is another science fiction movie I've seen a teaser trailer for and that looks like it's an old school science fiction thriller. To be lost in the endless void, alone, waiting for your oxygen to run out or the heating system to fail? How horrible is that? I love the premise of this movie. I love old school science fiction that doesn't feel the need to apologize for what it is or throw in idiotic and unnecessary psychopath scenes because the writers understand the strength of the material and trust the audience to get it. This one is dicey though because any movie like this runs the risk of getting bogged down in intrigue, which drives me crazy. Of course I have no idea what this movie is really about since all I've seen is the teaser trailer but it looks interesting enough that I'd like to know a bit more. Also, and I know I shouldn't but, I like Sandra Bullock. K.