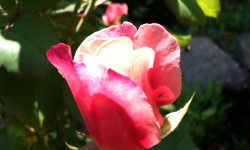 My garden is a source of great satisfaction, peace and joy for me. I have several rose bushes and one of my favorites is one named Distant Drums. It has a mauve, dusty rose color to the blooms that I find soothing and gorgeous. This week it has burst into bloom. I have some lovely pictures to share with you.
The hummingbirds are still visiting the Crocosmia Lucifer, much to my delight. I had planned on removing most of the flowers and moving the rest of them to other places but I'm going to hold off on that so long as the hummingbirds visit.
It has been quite dry here so I've had to water more than normal. My Gunnera isn't grwoing as large as I would like but I suspect it'll take a year or two to develop a large enough root system to produce the really huge leaves I'm looking for.
My gladiolus is blooming one at a time. I've got three coming on but they don't look like they will bloom together. It keeps my garden pretty though to have different flowers blooming at different times.
I also have this gorgeous double flower daylily I got from a neighbor who was moving out and had some landscaping done. They were throwing away the plants and asked if I wanted any. Since I had a corner of my garden that needed a ground cover and I love flowers I accepted a few of them. Much like the Crocosmia Lucifer, these are naturalizing quite nicely. K.