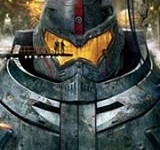 Director: Guillermo del Toro
Story: Travis Beacham
Screenplay: Travis Beacham & Guillermo del Toro
Novelization by Alex Irvine.
I got a chance to read and review the Pacific Rim official novelization and I am happy that I did. I've read a lot of books written from movies (mainly Star Trek novels) and generally I like whichever I get to experience first, book or movie. Not so with the Pacific Rim novel. The movie is far and away superior to the novel. Not that the novel isn't good, mind you. It's just that the movie is very action-packed and the book, by its very nature, moves more slowly. The movie can show you things that the book must describe and that, of necessity, slows the pace down.
I did enjoy the little extra tid-bits about the Antiverse and the Precursor race. There was a tiny bit more flavor about the characters but I liked what I got from the movie better. Alex Irvine did a top notch job of converting the movie to a novel, in fact the Pacific Rim novel follows the movie more faithfully than any other movie novelization I've read.
My only quibble were the spec sheets, or bits of the dossiers that were inserted between scenes. While they are informative and provide important plot points, they get a bit tedious towards the end. In fact in the final exciting battle I found they actually got in the way of the flow of the story.
All in all, I enjoyed reading the book but not as much as I enjoyed seeing the movie. Go see the movie. Go ahead and pick up the book too. K.