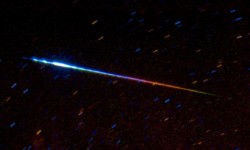 I told you, gentle reader, that I would post about my life list when I wrote about getting to see
Cirque du Soleil "O"
in Las Vegas. There are many topics I want to blog about and I have very limited time right now. Rest assured I have not forgotten about the Golden Age of Science Fiction series I'm doing.
As for my Life List, it is brief really, because I haven't really sat down and thought about things I want to do while I have the time to do them. There are a few things I've wanted to do though and I would like to share them with you so that you might get an idea that life lists are intensely personal, there is no wrong way to do a life list (well unless it includes things that are illegal, harmful to others or cause pain to those around you).
First up: When I was young I read a story about a little girl who got to see the Leonids with her grandmother. Ever since I read that story the idea captured my imagination to see a meteor shower. I'm happy to say that I did. In fact I've seen the Peseids several times now.
In the same vein, I saw a comet too. Comet Hyakutake passed very near the Earth in 1996 and was visible to the naked eye. We drove up to the International Rose Test Garden and watched it from there. Which reminds me: Comet ISON is supposed to be visible starting in December of this year and I hope to get a glimpse of that one too.
I would like to see the Northern Lights. Someday I hope to. There have been a couple of times this past year when they've been bright enough to be visible quite a ways south but not in my area, or not bright enough to cut though the surrounding light pollution, or it was overcast. One of these days though I hope to see them.
Cirque du Soleil was spectacular and I loved it. You can read my review here.
US National Figure Skating Championships: 2005. I love figure skating and I've been to many events but this one was a week of amazement.
Disney Land: It really is the happiest place on Earth.
The Circus: I had never been as a child and I loved going. It was fun.
Write a book: Yes. In The Flesh is one of my books. I'm currently working on the sequel.
I would like to get to Hawaii or some Island in the Caribbean at some point.
Concerts: Erasure, yes. Pink Floyd, yes. Owl City, Yes. David Crowder Band, yes. Newsboys, yes. Sean Cassidy (it was a long time ago, ok?) yes.
I would like to get to Comic Con, World Con and G-Fest at some point. That's about all I've got for now. I hope you've enjoyed seeing my list and I'd love to hear some of your ideas for your own. K.