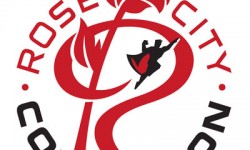 Portland's home grown show announces dates for 3rd annual convention
Portland, OR – Rose City Comic Con saw record attendance during their second annual convention held at the Oregon Convention Center the weekend of Sept 21st & 22nd, 2013. Over 17,000 people attended the event, which marks an over 400% increase in attendance from year one.
Attendees turned out in all manner of costume to enjoy the over 2000 artists, panelist, vendors, writers, celebrities, droids, staff and volunteers who worked tirelessly all weekend to create an impressive fan experience. Heck, there were even 5 puppies and 3 kittens in attendance!
Rose City Comic Con is very proud to announce their third annual convention will be taking place September 20th & 21st, 2014, once again at the Oregon Convention Center. RCCC 2014 will feature a greater variety of film/television stars, voice actors, comic guests, vendors, merchandise, gaming, contests, artists, speakers and pop culture than ever before!
Look for regular press releases containing all of the latest news leading up to the show in September 2014. For more information, please visit RCCC's website at www.rosecitycomiccon.com