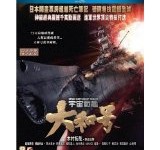 Lead Actor: Takyua Kimura as Susumu Kodai
Lead Actress: Meisa Kuroki as Yuki Mori
Director: Takashi Yamazaki
Writers: Leiji Matsumoto, Shimako Sato and Yoshinobu Nishizaki
While this movie is avalible in a Region 1 DVD/BluRay release it is not dubbed into English so the interested viewer will have to deal with subtitles. That being said: Totally worth it.
To be perfectly honest, when I got the BluRay of Space Battlship Yamato I expected some second rate special effects and a lot of cheese that would be carried by a very strong plot and heartfelt acting. So I braced myself slightly as I popped it into the BluRay player.
What followed was 2 hours and 19 minutes of pure awesome. There was little to no cheesiness and the special effects were first rate. The story was strong and well told. The writers did an excellent job. The plot line was engrossing, and the pacing crisp. The acting was excellent too.
**Major Spoilers Ahead**
In 2199 the Earth is under attack by an alien force that is turning our beautiful blue planet into a mars-like wasteland of deadly radiation where nothing green grows anymore. Humanity is on the brink of extinction. Just when it seems all is lost an alien capsule is found that provides the schematics for a wave motion drive and, more importantly the man who finds it first, Susumu Kodai, survives a lethal dose of radiation.

From this the Defense Force decides to launch the
Space Battleship Yamato
to the distant planet of Iskandar in the Large Magellanic Cloud. It is their hope that a device exists there that can clean up the radiation contaminating the surface of Earth. So with little more than a hope, a prayer and a wave motion cannon, our intrepid crew sets off on a galaxy-spanning quest.
Every aspect of this movie is just brilliantly and beautifully done. The space scenes are spectacular. The space battles are exciting. There was a lot of eye candy in this movie. The special effects easily held their own against a well acted and dramatic story with strong plot elements throughout.
I remember a few episodes of Starblazers I saw when I was much younger and I confess that when they first fired the wave motion cannon I was thrilled. And, true to the way I remember it, they only used it three times in the movie. My only quibble, and this is a very small quibble, is that the scene that we saw in the earlier trailer of the Yamato rising majestically out of the ocean never appeared in the movie. The movie did not suffer for the lack but I was hoping to see it within the larger context of the movie. Perhaps if there is a sequel, which I hope there is.
I would compare the live action Space Battleship Yamato favorably with Pacific Rim as one of the best movies I've seen this year, even though I didn't see it in a theater. Sadly the US is probably not considered a strong enough market for a gem like Space Battleship Yamato to have a theatrical release but if you like science fiction or space adventures then do yourself a favor and pick up the dvd. K.