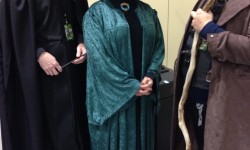 Day 3 of ECCC is bittersweet. We have had so much fun and this is the final day of the con. The urge to squeeze every ounce of fun out of this day is stronger than any of the other days of the con. We are weary from lack of sleep and overstimulation from all of the sights and sounds yet we wish it would never end.
I so wanted to see Karen Gillian but her line was capped by the time I got up there. I'm very happy that so many other people wanted to see her. I did get to meet Dwight Schultz and get his autograph. He was just as delightful as could be. I had a difficult time selecting the right photograph to have signed for a very reasonable price. I was very tempted by the one where he was wearing the full aviator costume he wore in the A-Team because I really loved the character of Howling Mad Murdock. Finally I settled upon a photograph of him with Dirk Benedict because I had gotten Mr. Benedict's autograph at last years ECCC and it appealed to my sense of temporal symmetry. I hadn't realized he'd done some voice acting for Princess Mononoke or I might have had something intelligent to say to him.
From there I went to John de Lancey's autograph line, which was right next to Dwight Schultz's line. He was also very gracious and we chose the photograph of Q sitting on the throne, of course we did. His autograph was also reasonably priced.
I had to laugh at myself. Not only are we getting a wonderful collection of Star Trek actor and actress autographs but I'm also picking up the A-Team while I'm at it. I wanted to get Karl Urban's autograph but the timing just didn't work out. Every time I tried to get up there to his signings I got distracted—usually by Godzilla. Then by the time I remembered I was trying to get an autograph the time was up. Totally my bad but I got some cool Godzilla stuff.
What I love about the con is that if you plan your day out right you can see the sights and when your feet get tried and you need to sit for a bit you just go to the panel discussion of some star you want to hear speak or a workshop. There are panels that have advice on how to create cosplay costumes and how to write or market your own comic books.
I found Heather Hudson's table. She's another artist whose work I really like. I've played Magic: The Gathering since The Dark was released so I know some of the work of a lot of artists. She was just pleasant to talk to. She had a Cthulhu poker deck that I just had to pick up. Apparently I'm collecting unusual poker decks now. What I love about them is that they contain a lot of art for the buck.
So ends another Emerald City Comic Con. We had such a good time I'm already looking forward to next year. Please enjoy some more photographs. KZ