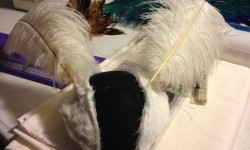 If you've been following my humble blog, gentle reader, you know that I enjoy going to comic cons. I also have a cobbled together steampunk cosplay that I wear. You also know that I am a huge Godzilla fan. As a result of these things I have decided to try my hand at a Mothra cosplay.
There were several things I considered before deciding how to go about my cosplay. I didn't want to go with a full face mask. That would be too hot and involve way too much construction. I also didn't want to limit my visual field with a bulky mask. Wings are also a logistical nightmare at a con where there are hundreds if not thousands of people all together enjoying the geek-fest.
I sat in on a couple of cosplay panel discussions at the last couple of cons and got some really good pointers. Like thinking about how you're going to sit in a car with your costume on, or how you are going to use the restroom. These are good things to keep in mind.
So with those constraints, along with a rather limited budget, I began trying to puzzle out how I could make this work. It occurred to me that I could go a minimalist route and possibly make something that would adhere to the spirit of Mothra and cosplay without being a full body suit topped with a huge heavy mask. Then it came to me: I could make a hat. Now I've never made a hat before but I know they have fascinator forms at craft and fabric stores where they sell bridal supplies. (Also I don't know what delineates a hat from a fascinator so forgive me if I'm using incorrect terminology. This could be an elaborate fascinator for all I know.)
I looked at my Mothra figure and got some white faux fur, a scrap or two of black felt, two ostrich feathers and since I couldn't find blue gems in the size and shape I wanted I bought two pendants that had plastic gems that were close.
I also had some royal purple scraps but they did not fit with the theme. I'll save those for another project. This is what I started out with. I got two fascinator forms because neither was the size or shape I wanted. I hand stitched the two together and used a couple pieces of scrap fusable interfacing that I pulled off the back of the remnants of another project to complete the size and shape I wanted.
Over the top of what is now the superstructure for the headpiece I pinned a strip of black felt and two pieces of the white faux fur. To cut down on weight I hand stitched all of this together.
Now I could have gotten a bunch of ostrich feathers cheap on eBay but I only needed two. I had to balance my need to watch my budget with my limited space and against the likelihood of needing white ostrich feathers in the future. I spent a bit more than I needed to but I only got two ostrich feathers. These are very light weight and the perfect size and shape to make Mothra's antenna. I used an exact-o knife to cut through the forms as well as cutting a slit in the fabric overlay so that I could hot glue the feathers into place. I stuck them just slightly through the fascinator superstructure and used liberal amounts of hot glue to hold them in place, both underneath and on top. Then I laid the fabric back over the top and stitched it down. The hat/fascinator is remarkably lightweight and well balanced since the antenna lay at just a bare 15 to 20 degree angle off the hat.
Next time I'll get the plastic gems off the pendants and hot glued on the headpiece.
I have some ideas for how to make workable wings too, by workable I mean the kind you can wear to a comic con without requiring a lot of airspace. I'm using the term wings loosely here. I will keep you updated, gentle reader. K.