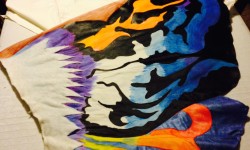 Yes, Gentle Reader, I had some serious motivational issues today. The other cosplayers who usually do Cosplay Sunday with me were not able to this week and I stayed out far too late last night drinking far too much. The food and the booze were both fantastic but the fun yesterday left me drained today.
Forgive me then, for not getting my sewing machine out and finishing up the little bit of sewing that the left wing still needs. I need to seam the sleeve part of the wing and top stitch the faux fur down. It's not a lot of sewing but it is a lot of stop and start sewing. I can't sew over the boning so I have to be very focused when I'm doing the top stitching and I just didn't have it in me today.
Fortunately there is still plenty of painting to be done to finish both wings. I finished up the final coat of black on the front side of the right wing. Then I moved on to painting the black on the front side of the left wing and realized, to my horror, that I had not drawn the pattern quite correctly. Thankfully I caught the mistake before I got very much painting done.
Now fellow cosplayers, mistakes happen. What's important is how you recover from them. When I bought my paint I picked up a bit of thick white paint because the base fabric I'm using is white. So every time I paint the wrong color somewhere I just go over it with white until it's covered up and then I can paint over it with the proper color. In this case I needed to white over a black line and change the shape of a curve before extending the black farther into the wing.
This is a hand made costume so remember to cut yourself some slack when you're working on your own costume. Most people I know see every single flaw in construction when they make something but trust me, no one else will notice, or if they do they won't mind. These little flaws are what make it unique, so be a little forgiving of yourself if you make a mistake. Recover, and carry on. (I know…it's hard. I can spot every little misstep I've made on this costume but then I look at a picture and realize that even knowing where the mistakes are I can barely spot them).
So I got a good part of the black done on both sides of the left wing. I decided to stick with black today because I wanted to see the left wing as a black and white pattern and compare it to the full color right wing. I'm glad I did, the contrast is striking.
Since I have never seen a Mothra cosplay at any comic con I've gone to I decided to do a little Googling and see what other Mothras might be out there. I figured G-Fest would be a logical place to find Mothra cosplay. Then in the course of further Googling I saw a Mothra with the same wing and hat concept that I had–in a Godzilla Burlesque!! I don't know whether to be delighted or scandalized. It just goes to show that there truly is nothing new under the sun.
My hat is quite different in style than any of the others I saw and I only saw original Mothra costumes and I've gone with Rainbow Mothra. I like the colors but I also like the shape of the wings better. I also like the feathery antenna of the Mothra I chose. As I said in last weeks blog post, choosing a subject for cosplay is very personal and there is no right or wrong choice. It's what seems right to the cosplayer.