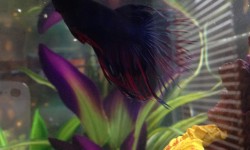 A blue and red crown tail betta named Gipsy Danger (once again, don't judge me), is the first pet I've had in 20 years. I have a lot of repressed pet love that is being showered on this particular betta. Gipsy has a 5.5 gallon tank, into which I've placed two mystery snails — Degarla and Ebriah Horror of the Deep (remember – no judging). I have so much repressed pet love, even the snails are spoilt. I can't let them go hungry though, that'd be cruel.
The snails have not seemed to be able to keep up with the algae growth in the tank, possibly because I feed them algae rounds once a day to make sure they don't go hungry. They came home from the pet store absolutely starving, it would be cruel to continue that.
So Today I picked up 10 ghost shrimp and 1 tiny little catfish. They eat algae and the shrimp are alleged to eat any leftover betta pellets that Gipsy doesn't eat. I deliberately asked for the most drab and small catfish in the shop so as not to cause Gipsy any grief.
To be honest, I knew better. The shop keeper said that the betta could share the tank with a small, non-aggressive fish if there were some place that the betta didn't claim where the new fish could hide and stay. Gipsy claims every inch of the tank. I knew that but I tried it anyway.
First I gave Gipsy a special snack of freeze dried daphnia. While Gipsy was distracted I sipped the Ghost Shrimp into the tank and then the small catfish. I chose not to name any of the newcomers at first because I wasn't sure how Gipsy would react to them, so at this point they were nameless.
The Ghost Shrimp were so fun to watch. They went into a frenzy of feeding, eating just as fast as they could. I have to confess that I was completely delighted by them as they swam around. But there was still Gipsy to make the final decision.
Gipsy seemed unconcerned with the newcomers, until the catfish moved. Then Gipsy noticed it. Whoa! Gipsy flared his gills and fins to the maximum. I had no idea his gills would flare like that. I hoped that Gipsy would calm down since the catfish was completely cowed by him but no. Gipsy kept at it until the poor catfish ran away. That was an even bigger mistake because Gipsy chased it and nipped at its fins. I finally had to rescue the poor catfish because Gipsy would not tolerate its presence in his tank.
Fortunately another member of the household had a tank with a more welcoming betta and the catfish went in there to live happily and be named Gallifrey. Gallifrey settled in nicely and the betta in that tank won't chase it unless it darts in front of him.
Gipsy spent the rest of the afternoon being very affronted that I would even imagine that another fish would be permitted to live in his tank then transitioned into being insufferably smug that he successfully defended his territory. Gipsy is VERY territorial, even for a betta. I'm not really all that surprised.
The Ghost Shrimp were next to be noticed by Gipsy. For some reason Gipsy is more curious about them than anything. It helps that they scatter out of his way any time Gipsy gets close to them. Gipsy has not threatened them, even on the few occasions when they have caught his attention and he's followed them to see what they are up to. Gipsy seems ok with invertebrates but Will. Not. Tolerate. Another fish.
After several hours with the ghost shrimp in the tank and Gipsy behaving like normal, as opposed to the flaring and posturing when the catfish was in there I decided it was ok to name the ghost shrimp. This was another problem because I had 10 of them and I couldn't tell them apart. They were and are delightful but I can't tell individual shrimp apart. This suggested a hive mind type of name so I started thinking about what monsters I knew that fit that description. Meganula from Megaguirus was a possibility but somewhat obscure. The Cybermat was an option but not one that really moved me. Then I hit upon Vashta Nerada and it said yes to me.
So now I have 13 residents in my aquarium: A crown tail betta named Gipsy Danger, 2 mystery snails, Degarla and Ebriah Horror of the Deep and 10 ghost shrimp named The Vashta Nerada. My hope is that they all live happily together for as long as their life spans permit. K.