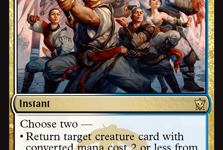 Those who follow Magic: The Gathering know that the new expansion set Dragons of Tarkir shipped last week. Personally I was excited to get my grubby little paws on this set because it promised a lot of dragons. Honestly, who doesn't like a lot of dragons?
So I got my hands on a box and had an enjoyable evening opening packs and reading cards, looking at art and enjoying the scent of new magic cards. I noticed that the flavor text for Pacifism got changed, which is a real shame because I found the previous flavor text pretty funny.
The dragons are beautiful, each and every one spectacular and they have great powers too. I pulled so many amazing dragons that I'm seriously considering a 5 color singleton deck. Gotta play them all!
I have to say that even the commons are really good in this set. I was quite surprised by how good some of the commons are. I really, really wanted to get a white common named Resupply into one of my decks.
The following are the cards that did make it into decks and the decks they made it into.
Rakdos:
Out: Mardu Shadowspear
Sudden Spoiling
Alesha Who Smiles At Death
In: Arrow Storm
Kolaghan's Command
Tail Slash
Azorious:
Out: Lore Seekers Stone
Noble Stand
In:
Contradict
Ojutai's Command
Dimir:
Out: Ojutai Soul of Winter
Steel Hellkite
In: Resupply
Tapestry of the Ages
Orizhov:
Closed
I just couldn't get anything into the Orizhov deck.
Dragons of Tarkir is a fantastic set. I'm sure there are more surprises in store than I've seen so far. K.