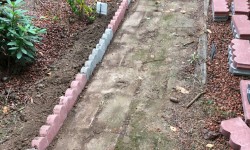 By K. L. Zolnoski
This week I did a little bit of weeding out front but not as much as I had hoped to get done. It didn't rain this week and without rain the ground is not soft enough to really get the roots of the weeds out. So I'm going to postpone the serious weeding out front until next week.
There is plenty to be done on the side yard though. We have a narrow path that runs from the back yard proper to a patio on the side of the house. This is where we focused our efforts today.
When the house was first built the contractor used landscaping timbers to border the brick walkway that leads to the patio. Landscaping timbers are decorative and inexpensive at around $4 per 8' timber.
Over the years these landscaping timbers have rotted away and a constant wash of silt and soil has buried the bricks. Every summer we have to clean off the walkway. It's a task that's tedious and labor intensive. Also, right across the walk way is our foundation and the vents to the crawlspace need to be cleared of debris every year. And, as if that weren't enough, the rain will wash away the hazelnut shell mulch I put down when we
planted the ornamental plants
we got on sale this last summer. This is all quite sub-optimal.
So we need to replace the border with something that will cut down on the runoff. I have approximately 80 linear feet on a north south axis that needs some kind of border. That would work out to 10 landscaping timbers but in a few years I'd have the same problem as they rotted away. But they are cheap. We'd be talking about $40.00.
The thing is, I don't want to have to dig out the old rotting timbers again. I don't want to have to deal with shoveling a layer of silt off my brick walkway again. I really don't want to have debris from the slight grade up to the neighbors yard introducing itself to my crawlspace. Something a bit more durable is called for. Something like either clay or concrete bricks. Use of these materials is called hardscaping.
Consulting the Google provided information on a variety of shapes, sizes and prices on bricks of all sorts. There were even molds that could be used to make custom bricks if one has the time and inclination. Budget your time as carefully as you do your money.
Since I work full time and have a household to keep up I don't have a lot of time to devote to my garden/borders. My plan is to do 2 to 4 hours a weekend. That's a modest amount of time that leaves a little bit leftover for other things even after I've summited Mt. Laundry and cooked for the week. I don't have time to make custom bricks.
I work hard for my money and I'm on a budget. So I needed to find a brick that was decorative enough that I could live with it and inexpensive enough to fit in my budget. What I finally landed upon is a scalloped top concrete brick that runs about $1.50 per 16". Needing 80 linear feet for the first phase means I'd need approximately 60 of these bricks. (80 linear feet X 12 inches/foot = 960 inches. Divide by 16 inches to get the number of bricks you need: 60.) It'll run me just under $90.00 (because the bricks cost just slightly less than $1.50). That's quite a bit of my budget but I won't have to reinstall in a few years. My time is worth something too.
I cannot stress this enough: Do the math. If you know how much you need of something, (for example I need 80 linear feet for this part of the project) you can easily calculate exactly how much of a material you will need. This will allow you to accurately budget and prevent overspending on materials you don't need. Don't let the terminology turn you off. Linear feet is exactly what it sounds like–a straight- line distance measured in feet.
Additionally we need a level surface, ideally 18" above the surface we want to water for our rain catchment system. Concrete cinder blocks are inexpensive and sturdy. At around $0.99 per block I can afford to set up a proper base for the barrels.
Not wanting to overload my car I made two trips and got just over half of the number of bricks I'd need for both projects. I got 32 of 60 bricks for the border and 6 of 8 cinder blocks and I still need two 8X8 square cinder blocks to complete the base for the rain catchments. I'm going with 8" high rather than 18" for a variety of reasons, not the least of which are weight and stability.
We then spent some quality time using the hoe to chip out the rotted landscaping timbers and prepare a channel to set the concrete border bricks into the ground. I used a smaller hand tool to level the bottom of the channel and then we back filled with dirt from the channel to set the bricks and stabilize the border. The bricks I chose are interlocking so the border is very stable.
I didn't think either brick red or concrete white were very appealing. Both colors have a rather institutional look to them that I am trying to avoid. Those are the only two colors the bricks come in so I opted to go with a pattern of red and white, which perhaps breaks up the monotony of a single industrial color.
Next week we will finish the other side and possibly continue on down the line of the patio. It may take three weeks to finish the north south line. Then I will consider whether I want to do the much shorter east west line for completeness sake. Probably I will. I like it when things look finished and I enjoy looking at something I have made. K.