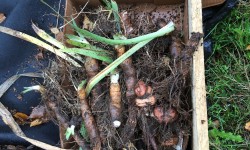 In previous blog posts I've mentioned that the verge on the side of the driveway is fairly large. This week I did a rough measurement of it's area and it's approximately 400 square feet. This was a fairly easy calculation that follows a well known formula. My driveway is approximately 40 feet long and the verge is approximately 10 feet wide. 40 X 10 = 400. Your units are feet and feet X feet = Square Feet. Putting it all together: 40 ft X 10 ft = 400 sq ft. There's about 60 sq ft up by the garage that I have not included in this measurement. There are two reasons for that. 1) the utilities are there and I don't want to damage or block them. 2) Due to the layout that area gets very little sun so not a lot of plants will grow there. With these two things being the case I've decided to wait on that bit and see if I get inspired. Also I cleaned that up once earlier this year and mulched a good part of it. It should just need some follow up and maintenance. This week I weeded around a 10 ft square space. My neighbor offered to let me use a tool to make the weeding easier but I chose to do it by hand. Not because I love backbreaking work but because I know there are some gorgeous Iris languishing in that part of the bed and I wanted to salvage what I could of them. The Iris have been overgrown for so many years that I didn't expect too many of them to even have survived.
So far it is looking very good for the Iris. I've found quite a few rhizomes that had growth on them and could be saved and replanted. This will save a ton of money since I can plant them in areas where there aren't currently flowers.
My goal is to clear the area along the east side of the flower bed and plant the Crocosima there. The neighbors like the idea of some kind of screen between us and the sword shaped leaves of the Crocosima get to be around 4.5 ft tall. In front of them I want to put the blue Dutch Iris I ordered and some bearded Iris. There is enough room in that bed with 10 feet on the cross section to put some shorter flowers in front of those without crowding them.
I want to keep the Crocosima because the hummingbirds love them and I love seeing the hummingbirds. Also they naturalize beautifully. The Crocosima also give the garden a bright spot of color that lasts long after the spring tulips have faded.
You might wonder about that cardboard that is down on the ground there. It's a very good mulch and weed barrier. It's cheap since you can use boxes you already have, rather than throwing them away and it cuts down on the grass and weeds that grow back. It also biodegrades. Right now it is protecting the bare soil from erosion due to the rain and from bad compression as I walk on it. Once I have the area planted I'll put down the hazelnut shell mulch that I like but for now cardboard boxes work great.
It started raining so I didn't get a picture but I scraped the mud off of some more bricks on the pathway on the west side of the house. I'll need one of the border bricks I bought cut because I need a piece of one in two places. I called my local Home Depot and they didn't have the equipment to cut concrete. I'll have to see if my neighbor has something. Otherwise I may have to buy a different kind of border brick that is the size I need for the two spaces.
Next week I plan to do the other side of the walkway border and finish cleaning up the raised bed garden out back. Today I pulled the last of the tomato plants and put them in the compost bin. I need to rake the beds, do a final weeding and put landscaping fabric over them. Then they can rest for the rest of the winter.
Lastly this weekend I scraped some of the weeds out from the expansion joints in the driveway. There is a lot of work to do there and it is hard work. Like the large flower bed, I'm tackling it a little bit at a time. There is a lot to do, it's true, but chipping away at it a little bit at a time will see it all done. And I still have time to get some writing done. K.