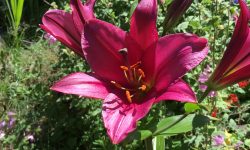 In the fall we planted several lilies. Lilies are one of my favorite flowers. I had hoped to get some Stargazers to plant as they are beautiful and delightfully fragrant, but I wasn't able to. I'll keep an eye out for some Stargazer bulbs for next year.
What I did get were two Purple Prince lilies along with a Cappuccino lily and some others whose names I have forgotten. Of those four are not yet blooming so we will get to enjoy them later on in the season. Currently I have the two Purple Prince lilies in bloom, the Cappuccino lily is done, having bloomed earlier in the spring and another lily is in full bloom but it's one of the one's whose name I don't remember.
The Cappuccino lily bloomed first in the early spring and heralded the flowers to come. I love the striking flowers with their dark centers and white edges.
The Purple Prince lilies are "tree" lilies and get very tall. These two specimines are around 5 feet tall, give or take a couple inches. They are wonderfully fragrant and their rich color makes them easily visible in the garden. They stand next to our only red rose: Taboo.
This third lily is very fragrant and I love the colors. It's in the perfect spot next to the Distant Drums rose.