This resulted in a strip of weeds that was too narrow to get a lawn mower down and too far away for the weed eater. In short it was an unsightly pain in the patookus. So this weekend I decided to take apart the corner of the raised bed border and extend the bed to use up this narrow strip of yard.
I have never wished so much that I had half-arsed something in my life. Apparently when I put the raised bed in, in the first place, I meant for it to last. That was some solid construction. With a little help I got it taken apart, dug the base for the new border and got the blocks into place. The result was 10 inches wider along the entire side of the bed.
Once the bed was rebuilt with the new border I got my trusty little rototiller out. After borrowing an indoor/outdoor extension cord from my neighbor (because mine was 6 feet too short), I got to rototilling. The soil hadn't been worked in years and I could tell. It was terrible, hard, filled with rocks and gone to clay.
So a trip to my local favorite nursery was in order. I got steer manure and peat moss to amend the bed with. This created a much nicer soil for my planting. I had to make three passes with my rototiller to get it all mixed in and the underlying clay broken up but the results were worth it. This also gave me the opportunity to get a lot of weed roots out of the bed too.
Also the nursery had huge, gorgeous mums on sale and then on top of that sale price they were buy one get one free. Also winter pansy were on sale. It was only by repeating to myself that anything I buy I would have to plant that I got out of there with just two mums and four pansies. I'll need more pansies but that will be for a time when I'm not exhausted from rebuilding the bed.
Now, when I order tulips and lilies to plant for spring, I never fail to order approximately twice as many as I actually want to plant once I get deep into the planting. This year was no exception. Add to that the mums and pansies, plus all of the stuff I had managed to save when rebuilding the bed and I had quite a bit of planting to do.
This also was my opportunity to rearrange some of my favorite plants so that they had better position and would be better displayed. Lets just say that with all the planting I had to do, I failed to complete it before the rains came. I ended up completely soaked but well pleased with my new flower bed. In the spring it will be gorgeous.
This really takes little more than a willingness to do back breaking work (I ached so bad I had trouble sleeping the first night), some research into plants and planning on where to plant them. Granted I probably spent close to $200 on materials, including the bulbs and amendments to the bed but the end result is gorgeous and will be spectacular. And I don't buy bulbs every year. So if you spread it out over years you can spend very little and still end up with a gorgeous yard.
One of the things I really love about bulbs is that if you treat them right they will come back year after year. I have calla lilies that were gifts from loved ones for my father in law's funeral and I remember him and them every year when they bloom.
I have tulips and gladiolus that I planted years ago that still come up. Every time I work the soil I try to dig up the bulbs and save them. This year I spent more than I normally do by quite a bit. Some years I have spent less than $20.00 but because they keep coming back I have more flowers than I buy in any given year.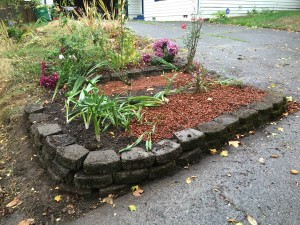 The vegetable garden has done well. Especially since this is the first year we had the vegetable garden. We learned some lessons this year. Namely that the pumpkins and squash are banished to the side yard. Also the tomatoes will get huge so don't cram a bunch of other things into their bed. Plant the melons sooner and not near the tomatoes. Plant the brussle sprouts sooner. Water vegetables slightly less than the ornamental plants like to be watered.

We are adding two more raised beds and maybe one more after that if I can get the spot weeded out and ready for it. I think maybe we can put strawberries in one. We will have to see.

This year we got around 10 pounds of potatoes from the garden. Not bad for our first try. I used them to make ham and tatoes which is a favorite around here.

Oh and for those who asked:

Ham and Potatoes (approximate)

Enough potatoes to fill your crock pot 1/2 full
Ham hocks or ham steak or leftover ham from easter (the best) Basically some ham.
1 cup of gorgonzola cheese
4 cups of cheddar cheese
1 Onion — sliced medium thin
1 Stick of butter
2 cloves garlic (or so, if you like garlic add another clove, if you don't like garlic don't use it)
1 t. pepper
1 C. Cream
4 C. Milk (or so, you're making a cheese sauce here)
1/4 C. flour (for the roux)

Slice the potatoes thin and if you like, par roast them in the oven with olive oil and seasonings like garlic powder, paprika, onion powder, and a pinch of salt. Just a pinch though, you don't want this to be too salty and the cheese and ham both have salt in them.

Grill or caramelize the onions. You want the onions to kind of melt into the ham and tatoes so slice them a bit thin. Make a medium roux with the butter and flour. Add the milk and cream and stir. Add 3 cups of the cheddar cheese to the sauce and stir until well incorporated.

In your crock pot, layer potatoes, ham, onions and cheese sauce, top with remaining cheese and Gorgonzola. I usually get two layers. Cook on low until potatoes are cooked through, stirring occasionally. Enjoy the noms.

Pretty much all of the landscaping that happens at my place will be not just because of my own hard work and planning, but also be a labor of love. Many years ago I built a raised bed. Due to certain obstacles I was unable to go to the edge of the area I had chosen for the raised bed.