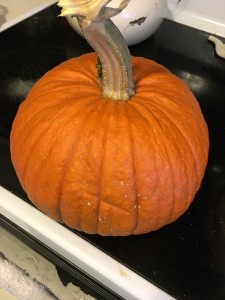 Thanksgiving is nearly upon us and if you're putting on the feast yourself, cooking has to start at least the day before. Today I baked pies and thawed out the turkey. The bird will go in brine when it finishes thawing and be ready for roasting the morning before the feast.
In years past, on request, I've made pumpkin pie from real pumpkins. I learned that most of what is called canned pumpkin is actually butternut or hubbard or some kind of squash. It took some searching but I found a recipe for pumpkin pie that calls for pumpkin slurry, which I make by roasting pumpkin and putting it in a food processor. Let me tell you, pumpkin pie made from real pumpkin, fresh pumpkin is the most delicious pumpkin pie I've ever eaten.
This year we upped the ante. This very morning I went out and selected a lovely pumpkin that came from our very own garden. I cut it in half, scooped out the seeds and roasted it in the oven. Once roasted the skin just pulled right off, no fuss no muss. The skin went into the compost bin and the pumpkin slurry went right into a mixing bowl to be turned into pie filling. Fresh pumpkin pie filling smells good even before it has been baked. My modest 6 to 8 inch pumpkin made two deep dish pies. Already I'm having to beat back the hungry hordes who want to test them before Thanksgiving dinner is served.
Today I also made bourbon pecan mini pies. The pecan pies are mini pies mainly because I only have two pie plates and I used them for the pumpkin pies. Thankfully I have a large muffin tin that I was able to press into service for individual sized pecan pies. Although I suspect they are actually large enough to share with a friend.
Next I'll make my grandmothers dressing, sweet potatoes, mashed potatoes, deviled eggs and the sriracha slaw. That'll leave only the green beans, salad, and turkey for the final day of cooking.