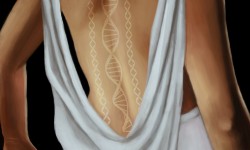 Since we're getting a lot of new traffic and I'd like to keep people updated. I wrote a science fiction novel called
In The Flesh
. No zombies I'm afraid but I think you'll find that the title is appropriate nevertheless. It's available on
Amazon
,
Kobo
for the Droid, and
Barnes and Noble
for the Nook as well as on iTunes (my apologies but for the life of me I cannot figure out how to link the iTunes page to this blog).
Here's the blurb from the back cover:
Mankind's ancient curse has ravaged the world and even crept to the very doorstep of The Temple of The Three Waterfalls. Generations-old treaties have spared the temple and those who call it home. Evadne, only daughter of the Holy Sybil, is content to remain hidden away in the remote mountain temple and study her craft.
But things are changing in the outside world. The emissary of a foreign prince has been sent to take Evadne away. Whispers of strange prophecies are heard from behind thick stone walls and the rumor of a powerful oracle to the east has the temple soothsayers involved. Change is on the wind.

Far away from the temple two brothers have discovered a lost continent. The promise of long lost technologies and treasures has the prince racing to stake his claim. They are not unopposed, for there are those who fear this discovery will bring about the end of the world.
On to Gardening! I seem to have a nesting pair of hummingbirds in or very near my garden. How exciting is that? I love watching them dart around and drink from the flowers. I could watch them all day long. They're so beautiful and tiny.
The weeds are making a strong come-back and I have to get to weeding to keep them from taking over again. If I do that I will have space for a few more plants. I think, what I'd like to do is get a few more hummingbird friendly plants for my little garden. I was watering the flowers the hummingbirds seem to really like, the crocosmia Lucifer and one little humming bird was feeding right next to me and I didn't even realize it. She was so close to me! Then I turned to water another section, all unaware she was so near, and startled her. I saw two of them hiding in one of the evergreens though so I think they're a nesting pair. I've heard that hummingbirds are pretty territorial and these two weren't chasing one another or scolding each other, so that is why I think they're mates.
Finally, as many of you may know, I also write for a wonderful blog called The Geek Girl Project. Well this Saturday they are running a special, and unique, review of Pacific Rim that I submitted to them. It explains how I came to be such a fan of Kaiju and Godzilla in particular and why I've been so excited about Pacific Rim as well.
I'm going to try to get an update about Godzilla 2014 together for you later on today or tomorrow. Keep an eye on the Godzilla Encounter site. The SDCC is about to get into full swing and there are supposed to be some exciting reveals there. K.