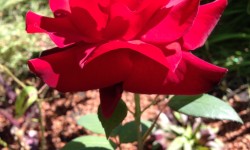 Because that is how it feels to me. An oasis of calm in the midst of chaos. A little place of rest and a tiny slice of nature in my backyard. It de-stresses me after all day at work and brings a surprising peace to my soul. It's not much, I don't have a lot of land or anything, but I get a little corner of the yard and with a lot of help we are turning it into a place of rest for mind if not body (gardening is hard, sweaty, dirty work; make no mistake).
We are also decorating a little bit. Apparently it's called heartscaping. I'd never heard that term before but I kind of like it. I ordered solar lights that light up in the dark. There is a hummingbird, a butterfly and a dragonfly. We put them out and then weren't out late enough to see if they actually worked. Sometimes decorative solar lights are a bit dicy and we've had spotty luck with them. To our delight all three of these work and they cycle through colors too.
We have, in the course of clearing out the spot and putting in the beds and weeding henseforth, been scratched, stabbed by thorns and bitten by little bitey insect things. We've dug up blackberry roots the size of my fist and had to leave pieces of blackberry root in the ground because we just couldn't get them out. We pruned back an own-root rose that we planted a long time ago named Jude The Obscure. We weren't sure if we had killed it or not between the brutal pruning and digging all the blackberrys out but in the last week it has leafed out all over. I'm pleased that it survived and seems very happy.
Some critter has been digging up the second bed of potatoes, could be the mole that invited himself into the yard the week after we got all the beds installed. Could be a raccoon, we do have a family of them living around here. Either way it killed the onion sets on its way to the potato bed, so I had to rake off the mulch and replant seeds.
Peas had to be re-planted too, as some of them had been broken off by the night-time visiting critter. The cages I put up around the surviving peas seem to have discouraged said critter from climbing into that bed. The brussel sprouts had to be thinned and I was able to transplant the few that were too close to others into bare spots in the bed.
After loosing the original Gunnera to a late freeze, we finally got a new one and put it replacement Gunnera in the ground just slightly south of the spot I planted the original one. Then we had some very hot days and it got a tiny bit, well ok about 30%, sunburned. I'm taking care to deeply water it every day now until it gets its root system established.
The first tomato has set. It's on Vintage Wine. The other two tomato plants, both yellow Brandywine types are growing huge but havent' got any flowers yet. The Vintage Wine has quite a few flowers on it already.
We picked up two cucumber starts, a lemon cucumber and a more traditional heirloom whose name I forget, my apologies. We also picked up an heirloom melon start at the farmer's market. I planted all three in the same bed with the tomatoes. There's quite a bit of basil and purple basil coming up in that bed too.
My roses have been blooming like crazy this year. I've been pruning them and getting a vase of roses every week. While I remember the names of most of them, I must confess that I've forgotten the names of a couple of them.
Honor, my only white rose, was languishing in the spot it was in. It was a bad spot to begin with but I was new to rose gardening and didn't know better. Finally after many years of talking about moving her, we did today. She may not survive but she was dying where she was anyway.
Either Amethyst or Peace will have to be moved next. Both are unhappy where they are at and I'd like to give them a better spot. I finally dug the blackberries out from around Chicago Peace and it is very happy. There's still one blackberry root I need to get out and eventually I will. We transplanted Taboo last year and at first it was very happy but this year not so much. I don't know what has changed but I'll be keeping an eye on it. Taboo is my only red rose.
I've been looking for the hummingbirds this year. The mallow bush is in bloom but I haven't seen them. I am afraid things are blooming too early and the hummingbirds might be late. They need that food too. I will keep you updated, gentle reader. K