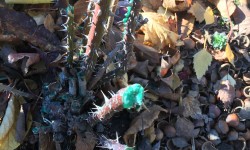 This weekend generally gets taken up with Holiday goings ons. Between spending time with family and friends and getting ready for Christmas it seems there is next to no time for gardening. That's ok because the weather has finally turned and it's getting too cold to be effective in the garden anyway.
I like to wait until the roses are dormant before I prune them back for winter. Pruning them too early runs the risk of them putting a lot of energy into leafing out again only to have the frost hit them hard and stress them, possibly killing them. Also I leave the last round of flowers on the plants to allow them to set seeds and get ready to go dormant.
There are little grubs that like to chew down through the heartwood of the rose canes to winter over. These will kill a plant if they go too long. To prevent this I break out one of the multitude of unused Christmas candles I have and drip wax on the ends of the stems when I prune them back for winter.
If you don't have a nice candle that you have no other use for you can use a few drops of white glue mixed with a drop or two of food color to coat the ends of the canes. Both of these methods will keep the larvae out of your canes and protect your roses for the winter.
With the cold weather upon us, I'm done outside for a couple of months. I'm only about a third of the way through all of the weeding I want to do. I'll just have to pick up in the early spring.