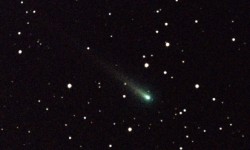 Comet ISON is about to be out of view from Earth as it slingshots around the sun. The 3 mile wide chunk of primeval ice from the birth of our solar system will skim barely over the surface of the sun, just 1.1 million miles away, classifying it as a Sungrazing comet
. In fact it is a large Sungrazing comet and as such is of particular interest. If the temperature doesn't vaporize the rock and ice that make up the comet, the colossal gravity of our sun could well tear it apart.
Already astronomers think some pieces of the comet have broken off, creating wing-like structures and resulting in the brightening that has been observed in recent days. If ISON isn't pulled into the Sun by gravity, and it's moving pretty fast so there's a good chance it might survive the close approach, then in December it'll round the other side and possibly be even more spectacular than it has been.
To see Comet ISON the best thing to do is get in touch with your local amateur astronomers club or science museum. This is just the kind of thing that science museums, local observatories and astronomers clubs like to cooperate on. We drove out to a state park to get outside of the glare from the city and some very kind folks allowed us to look through the eye-piece of their gorgeous 8″ telescope that they had painstakingly set up and sighted on ISON already.
Mercury was gorgeous, ISON was amazing, we also saw Jupiter, Orion, Vega and the Pleadies. Sure we were up before sunrise and it was cold but a few mugs of hot chocolate or coffee and it was an adventure that everyone enjoyed. It's a memory that will last a lifetime, especially since ISON has never been seen by our species before. Astronomers think this is the first time it has come into the inner solar system from the Oort cloud approximately 1 light year away and there is a good chance it'll never be seen again by our kind. ISON has spent the last 4.5 billion years in the Oort cloud.
Even now there is uncertainty as to what will become of ISON. Will it survive Sungrazing our own star? Will it plunge into the stellar inferno? Will it survive only to be ejected from our solar system entirely? Or will it fly back out into the Oort cloud from whence it came and return again in 190 million years – 350 million years or more? Because no one knows what will happen when it slingshots around the sun, no one knows for certain what ISON's ultimate fate is just yet.
Stargazing, comet watching, these are the kinds of things that families and communities can do together for very little money. Our local science museum had people on hand to talk about the comet and our solar system. Next time I'm bringing a couple dozen doughnuts to share.