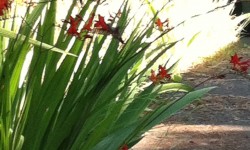 In the Garden the soil can be worked right up until the ground freezes. Take care not to compress it too much if it rains and the moisture content gets high enough for that to be an issue. So there is a fine line that has to be maintained when pushing the garden work deep into fall.
As you may recall, gentle reader, I had a section of the front flower bed I really wanted to get weeded out while the soil was soft enough to pull roots and all. That's fine in theory but even with soft soil, grass roots are difficult. I did the best I could and actually rototilled the area and still there are some very tough and persistent roots that I could not get out.
That's where the cardboard mulch layer comes it. I only use a single layer and it gets completely soaked and stays soaked for months so it breaks down quickly. Cardboard won't improve your soil quality but it will kill the majority of weeds. Since I'm battling grass right now that's my best, least toxic, option aside from digging everything out which I just don't have the time for. Nor do I want to destroy the slope I'm working on.
I've put nice hazelnut shells over a part of the area as a real mulch and I will use my cat's claw/hoe tool to plant the bulbs right through it. The forecast is calling for rain for the next week and that will soak everything quite nicely. Then I plan on digging up the Crocosima bulbs and planting them on the east side of the bed. That will be quite a job.
The nice thing about the Crocosima is that they will naturalize quite nicely wherever I put them. The bad thing about the Crocosima is that they have naturalized where I tossed them so many years ago.
I had no idea how tall they would get or how much they would spread. I got only 5 little bulbs of Crocosima Lucifer free in an order of tulips or something one year. I did not expect them to become one of the centerpieces of my flower bed. While I am glad they did, now I need to put them in a better place.
That being said, let's talk about laying out the garden. When I first started this flower bed, lo those many years ago, I took a rather haphazard approach. I planted what caught my eye at the time, wherever I felt like planting it. While there is a certain freedom and whimsy to that approach, I would not recommend it. That is the kind of planting approach that leads to 5′ Crocosima in front of 2′ Bearded Iris and 3′ Gladiolus in front of 6″ Dianthus…um Carnations. And that is what leads, seasons later, to having to replant an entire bed.
Either get some graph paper or make some in Excel (
it's super easy to do
) and you can plan out where you want to put your flowers, or vegetables if that's the kind of garden you're planting. I used graph paper for my raised beds in the back because my space was limited and I wanted to get as many beds as possible. I planted a full 4'X 4′ bed of carrots and I'm loving just going out and pulling a few out of the bed whenever I need them. It's going to be gorgeous to have these heirloom carrots for Thanksgiving this year. While I am enjoying this massive project of mine, I'm also looking forward to being done and having just maintenance to worry about. There will always be weeding to do. There will always be flowers that die off and need to be replaced. But there will not always be this huge multiple month weed-fest and border building and replanting. Also come spring this flower bed is going to be breathtaking.
When the weather forces me, at long last, indoors I have some home repair and improvement projects that I intend to get going. I'm not sure where I'll start just yet, but there is plenty to be done to improve our home.
I also need to get working on my next cosplay. It ain't going to make itself and comic con season is right around the corner. K.