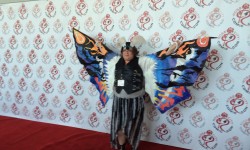 Comic Cons restore my faith in humanity. A bold statement? Perhaps. It's true though. When I see hundreds of creative cosplayers in their fantastic costumes, most of which they made themselves, it makes me happy. I love the cosplayers who buy their costumes too. Not everyone is crafty, not everyone has time to make something but everyone can cosplay. This is who people really are when they are set free from the worries and demands of everyday life. People are creative and gracious, they are happy to talk about their cosplay and the subject of their cosplay. When you see two fans of the same game, say a Link and a Midna meet at a con it's just magical. I saw Ronin glad to see Star-Lord just because they so obviously share the same interest. When you see a group of cosplayers you are seeing people set free from the mundane to express one facet of who they really are.
Another thing I love about comic cons are the celebrity guests. I have yet to meet a celebrity guest who isn't just as gracious, kind and charming. They share so much with their fans and they are happy to do so. I know Stan Lee was disappointed at the Portland Comic Con that he couldn't say more than a few words to each of the fans who wanted to see him. He always wanted to share, to sit and chat but, alas, so many people wanted to see him that the con volunteers had to keep the line moving. It was the same way with William Shatner. These are people who just love people, or perhaps more accurately an audience but they are storytellers, that's what they are.
With all that being said, I have a confession to make: I got Dirk Benedict's autograph again. I know, I know–why? I already have his autograph from ECCC2013 and he was quite charming. But it was so reasonably priced and his line was so short I didn't have to wait hardly at all and this time I wanted a picture that spoke more to who he is than my fandom. So I chose this picture:
I chose it because, after hearing his discussion panel this picture made me think of who he really is while still tying in to one of the shows I loved as a kid. Well I think I'm not going too far to say that I made his day by choosing that photograph. He immediately got excited and started talking about how this is his favorite picture. Turns out he had this picture taken in England for his mother but he liked it so well he had copies made to bring to conventions. He loves the shirt and wears it all the time, and the shoes are his favorite. In fact he wore them to the con and showed me. I think he was really touched when I told him why I chose that photo. He also liked my Mothra hat. We chatted for 5 or 10 minutes and his excitement about this photo had other people in line leaning in to listen and just smiling too. It's something special when you can bring so much joy into someone's life by something so small. He also said that this was only the second one of those particular photos he'd sold, which to be fair is probably because people want pictures of him in the roles they know him in. So, if you ask me, totally worth the very modest sum I shelled out to get a second autograph. Oh! And he let his aide take a photo with him and I was wearing my Mothra costume, natch.
I love coming away from cons with stories like the one above. It really adds to the specialness of each con. Look for these moments when you go to a con and don't be afraid to note them down as soon as you are out of line.
We ran into the fantastic cosplayers who were Yzma and Kronk yesterday. Yzma had transformed into one of the best, if not the best Loki of the con.
Oh here was the cutest Star-Lord of the con. There were several good Star-Lords, really good ones but this guy was creative and low budget. Proof that you don't have to spend a fortune to cosplay, just get creative!
Having fun and making people smile is a fantastic way to spend a Sunday. So Rose City Comic Con was a rousing success both days and we had a lot of fun. Thank you to everyone involved, especially all of the cosplayers. And be sure to check out Kaijucast for photos of my Mothra cosplay with Kyle.
Also one last shameless plug, check out S. Shadow's Natural Photography where pics from the Rose City Comic Con will be up Monday and Tuesday. His photographer got a couple of good ones of my Mothra cosplay.
Here's one that one of us took where I'm not backlit!