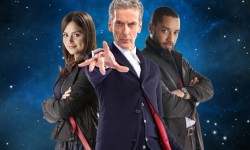 So I've been enjoying both The Flash and Constantine. Both very different shows from each other but good in their own way.
The Flash is great for family watching. I love a show you can watch with the family without worrying about appropriateness. Unfortunately I missed the first episode and sometimes the writing is a bit dicy but overall it is a good show. The writing seems to have settled down as the season progressed and honestly I've been enjoying it.
Doctor Who: Doctor, Doctor, Doctor; what has happened to you? I love Peter Capaldi as the doctor. I even loved Missy as The Master. What I don't love is the way each episode has seemed to make promises it cannot or will not keep. Because of this every episode seems to end with a bit of a let down, as if the entire thing was a giant tease. That being said, still one of the best shows on television. In my opinion kill the Moon is far and away the best episode of season 8 with Death in Heaven second.
Constantine is horrible. I don't mean it's a horribly done show or poorly written or poorly acted just that horrible things happen to people in the episodes and the antagonists are fairly awful monsters too. This stands to reason since the premise of the show is that of a man whose soul has already been damned to hell who fights demons. This show is quite enjoyable to watch but I would not consider it appropriate for younger people. Thankfully it airs late on Friday night after prime time which seems to be the network's big clue that it's not considered wholesome family fare.