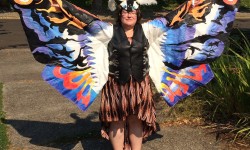 That's right, gentle reader, I got it done and not a moment too soon. Today we are less than 7 days out from the Rose City Comic Con. I also helped stitch the skirt and cape for our Midna (of Zelda fame) that will be one of our cosplayers and then helped with the Godzilla cosplay (although that one may not make RCCC).
As an aside our Godzilla cosplayer has a conflict with the RCCC on Saturday so our plan to enter the team cosplay contest has been thwarted. Maybe we can do something like that when we get to the Emerald City Comic Con. Wish us luck!
I know last week I said it was day 14 but I went back and counted them up and it's actually day 17 today. My total hours invested in the project are right at about 70. I splurged on two things this week for the costume, pushing the cost for materials up to $110.00 but several of the things I got are not absolutely necessary for the cosplay.
Perfect example: I picked up a bluetooth speaker (toy of the night when I brought it home) and bought the theme song for Mothra to put somewhere (possibly in the front vest pocket) and play while I'm at the Con. That was $30.00 I hadn't planned on spending when I calculated the cost of the materials. In fact that little splurge is responsible for me going over my second budget estimate. Totally worth it though.
I finished up painting the vest, which is making up the main body of Mothra, and touching up the wings. Check it out:
It's a good thing I tried it on and wore it a bit today. I broke one of the dowels in two places just wearing it. I'll never get one piece of the dowel out of the sleeve I stitched for it so it'll have to stay. Thankfully the 12 gauge wire was in place and that's helping a lot. I have to decide if I want to use the dowels and replace one (for a grand total of $0.39) or go with softer wings. I really like the visual I get with the extra support along the leading edge the dowel gives me so I'll probably replace it before the con.
I really did not want to go with a big elastic strap to hold the hat on. I was hoping that a few elastic loops and some bobby pins would do the trick. Once again, in the trial the hat wasn't as secure as I had hoped it would be, and not secure enough for me to be confident of it in a large crowd. Because of that I went ahead and stitched an elastic strap on it and I'm very pleased with the result. It doesn't go under my chin but rather around the back of my head and I like it much better. This will be secure in a large crowd.
Some bonus pictures from the construction and modeling of the cosplay:
Mothra will debut at the Rose City Comic Con. I am very excited and pleased. Looking at the pictures it looks even better than I imagined it would when I started it lo these many weeks ago. K.