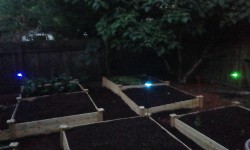 With the holidays almost upon us it might be a good idea to provide some gift ideas for the gardener in your life. The weather outside might be frightful but that doesn't mean you can't plan some heartscaping for the garden. Below find some ideas for the garden to fit almost any budget.
Little solar lights transform a garden into a magical wonderland when the sun goes down.
These little lights in the shapes of butterfly, dragonfly and humming bird make an evening on the patio next to the garden a magical and relaxing event. At around $20 for a set of four they are a delightful addition to any garden.
Also this solar light wind chime is very whimsical and would be fun in a garden setting.
But who am I kidding. I discovered something for the garden on Amazon that makes my little nerd heart jump for joy.
Starting off with a little dragon sculpture for your patio wall or really anyplace you think you can wedge him in.
This cute little dragon comes in at $40.
The Astronaut at Ease is really fun and would be awesome in any garden or on a desk. It's turning your garden into a sci-fi adventure! A bit more spendy than the wall dragon at $85 but so much fun.
Ok not necessarily for the garden but this Frost Dragon ornament is gorgeous and at $17 it's very reasonably priced.
If you have a more practical bent this little garden caddy is always useful and at $10 it won't break the bank.
These little kneeler pads are a great gift too. As a gardener you are always kneeling down to pull out this or that weed, or check that plant or harvest this or that vegetable and while these may not be glamorous they are incredibly useful. And they're just $9 on Amazon.
Or there are a variety of raised bed kits which could be a great help to a gardener looking to go to raised beds.
Then there is a motion detecting solar light for gardening just a few minutes later into the evening.
Of course what really takes the cake, not just for wow factor but also for price is this little beauty:
Sure it costs more than $500 but it's a scale model of an Apatosaurus. That's amazing.
You can get the more modest Camarasaurus for around $300 or so.
Totally awesome with a totally awesome price to match.
Yeah the scale model dinos are expensive but they are unexpected, have an unmatched wow factor and your garden will never be the same.