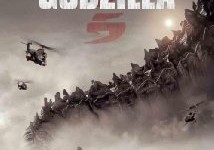 Yes the sequel to Gareth Edwards Godzilla will be released in theaters June 8, 2018. The Sequel will also be directed by Gareth Edwards and I hope he does a better job than he did on his Monsters sequel: Monsters Dark Continent which was just awful on so many levels. In fact I consider myself a bit of a connoisseur of low budget sci-fi movies and this was so bad I couldn't finish watching it. In fact I didn't get much past the opening scenes. And I made it through two of three Sharknado movies so far. I haven't had time to watch Sharknado 3 yet but it's on the list to be watched. But I digress.
The recent deal between Legendary Studios and Universal means that Legendary now has access to other characters from Toho. Characters like Mothra, King Ghidorah and Rodan. These could now potentially show up in the next Godzilla movie. Squee! I really like the rumor that the Monarch organization will still be involved. It seems like a good plot idea to me.
As for the original Toho Godzilla, well Toho has given Shin-Godzilla an English title for the 2016 movie: Godzilla Resurgence. The initial filming has been done as of this post and effects work is now being done. Shin-Godzilla is due for theatrical release in the summer of 2016.
It's a good time to be a Godzilla fan.