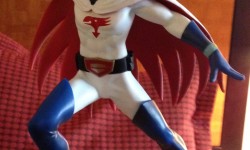 Many people have written about Casey Kasem's passing. They have written about his career, his illness later in life and the sad feud that exists between his remaining loved ones. I've read blogs about his voice acting in Scooby Doo and how he used that humble cartoon to speak about his own values to a generation of fans. They have written about things that while true, seemed a bit cold, a bit clinical as a way to remember a man whom exhorted his listeners to "keep their feet on the ground and keep reaching for the stars." What great advice. Be pragmatic but not afraid to dream.
Casey Kasem hosted the American Top 40 Countdown for as long as I can remember. While it may seem odd, the weekly Top 40 Countdown was the only radio show I took pains not to miss. When my favorite song was in the top 10 I cheered it and the artist on. The show was the main way I discovered new favorite songs and groups. It was easy to imagine that we knew a little something about him. Of course we didn't, but that feeling of closeness that came from listening to him week after week was still there. And I was truly sorry to hear that he was in declining health and saddened when he died.
What I really missed in all of the reporting was mention of his voice acting work on one of my favorite cartoons: Battle of the Planets. (Yes Sandy Frank is the source of all our pain–thank you Joel and the Bots). Casey Kasem was the voice of Mark in the American version of what was originally called Gatcheman. I was never a fan of Scooby Doo but I loved Battle of the Planets. Many a morning I pushed the envelope of catching the school bus to watch just one more minute of Battle of the Planets. For the record I never did miss the bus but I got chased out of the house more than once lest I do miss it.
These are the fond memories that come to mind when I think of Casey Kasem. So it is with real feeling that I say, rest in peace Mr. Kasem. Your presence on the airwaves brought a bit of happiness into lives all over the nation and probably even farther. K.