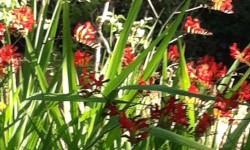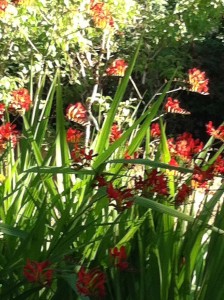 Well this heat has made my roses very happy–at least so long as I water them frequently. I only have one red rose and it was languishing in the spot I had originally chosen for it. Last fall we moved it to a better spot and it is flourishing.
The hummingbirds I suspected were nesting in the neighbor's tree which overhangs my garden proved to be doing just that. A few nights ago I was treated to the sight off 4 little ones buzzing around in the tree while the 2 parents watched from the top of the tree. I wish I could have gotten a picture but they are iridescent green against green leaves that are almost the same size as the birds and while I could see them when they flitted about, I doubt my cell phone could have captured enough detail for a picture to be worth while.
I also discovered that I have a spectacular gladiolus in my flowerbed. I don't know how I lucked into this beauty but I hope it blooms again next year. Watering seems to be key when it gets warmer. Last year the gladiolus didn't flower and I suspect it's because I failed to water them enough.
Speaking of watering and growing, my Gunnera are growing very well. I'm very pleased with them. I hope they get huge next year. From what I've read about them, they take a year to establish themselves.
I also have some Coleus that is happy as can be and some New Zealand Impatiens that are gorgeous and flowering for the second time since I got them. K.