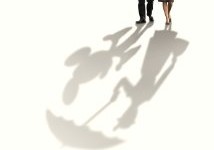 Saving Mr. Banks
Lead Actor: Tom Hanks
Lead Actress: Emma Thompson
Director: John Lee Hancock
Despite my fondness for Kaiju movies: Godzilla, Rodan, King Ghidorah, Mothra and more recently Pacific Rim and the Jaegers and Kaiju from that fantastic movie; I also enjoy Disney movies. I've loved Mary Poppins since I was a young girl and it was one of the few movies my ultra religious parents would allow us to watch. I confess that although I am an avid reader, I have never read the books that the movie came from. In a sense I am glad that I have not.
By now anyone who has read and loved a book then gone with high hopes and expectations to a theater knows that no movie ever lives up to the book. Especially if you've read the book first. I was recently reminded of this when after falling in love with Hiccup and Toothless in How To Train Your Dragon, I ran right out and bought the books and read them, only to find they were wholly unlike the movie. Thankfully I've encountered this truism often enough to be more philosophical than disappointed any more but I had hoped to read more along the lines of the characters I fell in love with in the movie.
As a complete aside the trailer for How To Train Your Dragon 2 ran before Saving Mr. Banks and it was as breathtaking and amazing as those first flight scenes in the first How To Train Your Dragon. Once again I got goosebumps watching Toothless and Hiccup fly. I am sorry that they did not show the Godzilla trailer. Now you may think that Godzilla doesn't really belong in front of Saving Mr. Banks but they showed two war movie trailers, including the new Tom Cruise sci-fi thriller Edge of Tomorrow (which smacks of Phillip K. Dick if you ask me). So why not Godzilla?
But I digress. I also like Tom Hanks so I was eager to see Saving Mr. Banks, even if I had to go see it by myself. Thankfully my doting husband went with me. Once again we went to the Swanky Cinetopia, where I had a beer and a delicious turkey club during the movie.
*Warning spoilers ahead*
I find that oftentimes when I really enjoy a book I elevate the author in my mind so that they are good and generous people, the kind of person I would like to get to know. That is probably a conceit on my part but it is something I find myself doing. So to say that I was shocked to discover that Mrs. Travis, the author of the books from whence Mary Poppins came was quite literally a female curmudgeon is a bit of an understatement. I was surprised that she was so disagreeable. Here was an author responsible for a character all but universally beloved by children and she was sour, almost bitter.
Also the format of the movie was surprising. It started with a retrospective, one of her memories and at key points in the film her memories took center stage, weaving a poignant story around a movie about the making of an already poignant story. And Disney studios showed remarkable restraint in that they made the movie about P. L. Travers, keeping Walt Disney's screen time to a bare minimum–especially having cast such a high powered star in the role.
Emma Thompson was supurb in the role of P. L. Travers. She carried the movie as a tormented author and she brought warmth and humanity to a very distant personality. I never saw the Nanny McPhee movies, had no interest to be honest (strange I know) but I might go back and watch them now.
Everything about Saving Mr. Banks was done with sensitivity, subtlety and a level of storytelling that is rarely seen in movies where being over the top is so often rewarded at the box office. Saving Mr. Banks is truly a companion piece to Mary Poppins, with an epiphany and a touching change of heart that, while perhaps not true to life, makes for a very strong and moving story.
While I, personally, think Pacific Rim is the best movie I've seen in many years, Saving Mr. Banks deserves all of the accolades it's been receiving from fickle and particular critics.