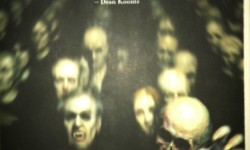 June 24th 2013 Richard Matheson passed away. He was born in New Jersey on Feb 20th 1926 and his first short story
Born of Man and Woman
was published in
The Magazine of Fantasy and Science Fiction
in 1950.
The first work of his that I read was his novella I Am Legend and it was one of the most amazing works of fiction I have ever read. The ending was so unexpected, so original and so masterfully done that I am sorry it wasn't a full-length novel. Don't even waste your time with that movie they made. It destroys the story. I like Will Smith but what they did to I Am Legend when they made that movie is a travesty against science fiction and horror. The story Matheson wrote was the single best vampire story I've ever read.
There were other stories in that collection of his I bought. Prey stuck with me for weeks after I read it. That man could create a sense of foreboding in words that is outstanding. I dare say he equaled H. P. Lovecraft in his ability to create that ominous weight of horror on a page.
He also wrote What Dreams May Come, which I still haven't seen but I've been told I should. I think I'd like to read it first. For those who enjoy the classics Richard Matheson wrote The Shrinking Man, which became the movie The Incredible Shrinking Man. He also wrote The Twilight Zone movie as well as contributing to the original Twilight Zone series. His work was not limited to the past. As recently as 2011 he wrote Real Steel.
I'm always saddened when an author whose work I enjoy passes. Not only has the world lost a gifted writer and an extraordinary imagination but also I will miss finding new works by him on the bookshelf to enjoy. My heart goes out to the family who will miss him for far more profound and personal reasons than I. Thank you Richard Matheson and RIP. K.