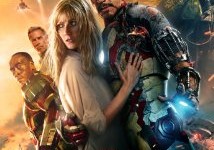 Let's talk about
Iron Man 3
. First of all I love Ben Kingsley and I can imagine that he really had a ball with this role. Secondly I love Robert Downey Jr. No I didn't start out a fan but the role of Tony Stark was made for him, or he for it. I don't know but either way it works out fabulously. I don't want to give away any spoilers this early in the release so let me just say that whatever you're expecting, this movie is not that. I was surprised as the unexpected happened more than once. The best way to enjoy this movie is to take it as it is, without preconceptions and by enjoying the ride. I will say that no audience enjoys a bait and switch but this is handled well and makes up for it by the strength of the characters.
We saw it at the Cinetopia and let me tell you, it was lovely. The seats were extra comfy and there were ottomans for each seat so I could put my feet up and really get cozy. Also there was food and beer and friendly servers. We had a Lagunitas Little sumpin' sumpin'. I first tried that delicious brew at the Zoo Brew a year ago and remembered how good it was. It's a fairly obscure brew to have on tap and I was pleasantly surprised. Now I'm not saying that 3 pints of little sumpin' sumpin' makes the movie better but it sure didn't hurt.
I will have to say that if I were ever an evil genius, things would not go well for the Earth. I actually thought of something so diabolical, so horrible that if it had been me, instead of the Mandarin I would have taken over and no one would have even realized it. The entire population of the planet would have just gone about their business as usual all-unaware of their new evil overlord. Only Jarvis might have been able to alert Tony Stark.
There's nothing to see here, citizen, carry on about your business.
Also, while I can see and appreciate the particular way they chose to bring about the villain's downfall, I would have done that differently too. Then again what they did was so unexpected that I cannot fault them for the way they chose to do it. In fact it is because they did such a good job setting things up that there are alternative solutions to the problems they created.
Finally, I really enjoyed the growth that Tony Stark went through. It seems that every Iron Man movie is about Tony Stark growing as a character. It's about his inner character being refined in a crucible of extraordinary and dangerous situations so that with each movie he becomes more a hero and less a narcissistic jackass.
There were some notable trailers before Iron Man 3. First up Star Trek: Into Darkness. Wow does it look fantastic. The more I see of it the more I want to see it in it's entirety. Also After Earth looks fun but then I fall for sci-fi every time and I like Will Smith. Superman–does not look like anything I am going to rush right out and see. I can't help but think, every time I see it, that with Global Warming proceeding the way it is that Fortress of Solitude had better be mobile.
Now I have to go from the fantastic and wholly enjoyable, if frequently unexpected Iron Man 3 to Ghidorah: The Three-Headed Monster for a review I'm doing for The Geek Girl Project. I'm going to require a few more pints for this. K.