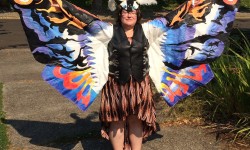 After much thought, and many second thoughts I must confess, I shared a fairly unflattering photograph of my Mothra cosplay on the Mothra fan page. I should not have been worried. The people that run it are lovely and so are the fans. I chose the photo I did because it is the one with the best lighting and shows off the wings the best of any I've had taken so far. I look ridiculous since I'm trying to make the wings as big and visible as possible but that's the beauty of Cosplayers and fans–they don't judge, they love the cosplay and appreciate the work that went into it. Anyway it's been shared on the Mothra page:
https://www.facebook.com/Queenofallkaiju
And on the Gabara page:
https://www.facebook.com/kaijugabara
on Facebook and while I don't normally do this I'm pleased to share links to their pages. Kaiju fans feel free to check them out.