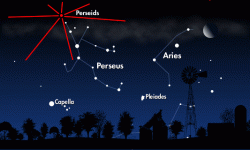 This map shows where, in North America, to look to see the Perseids. They seem to radiate out from the constellation Perseus.
The shooting stars we see during a meteor shower are in fact bits of rock, dust an debris falling into our atmosphere. The enormous friction caused by the high velocity of the objects and the density and composition of our atmosphere literally cause the objects to glow and burn as they enter.
The Perseids were once a part of the tail of the comet Swift-Tuttle, which orbits our sun once every 130 years. A piece of it got ripped off during an orbit and every year the Earth passes through the region of space where that debris floats in space. It is beautiful and awe inspiring to watch. I hope it clears up here so I can see some tonight.
According to NASA some 10 to 40 tons (I guess depending upon the day and the density of the material in any given part of space the Earth is passing through) fall into our atmosphere each day. Most of this is invisible to us. It takes one of the bigger showers like the Perseids or the Leonids for us to be able to see some of the meteoric entries into our atmosphere.
This is the universe happening right in our backyards here. If you have the chance, go out and spend a few minutes skywatching. some of the meteors even get bright enough to be seen through the glow of the city. K.