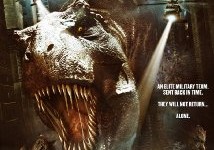 I watched
100 Million BC
, not to be confused with
10 Million BC
one Sunday when there was nothing but 700 channels of garbage on the television. Warning, spoilers ahead. This was a sort-of sequel to
The Philadelphia Experiment
. The ideas were good. A secret group of scientists continue to work on Project Rainbow after the U.S.S. Eldridge was translocated through time, not teleported as they had first suspected. This results in a brilliant scientist, Dr. Frank Reno, played by Michael Gross, stranding his own older brother in the prehistoric past. Hope comes in the form of cave paintings recently discovered by some spelunking archeologists. Dr. Reno decides to go back with a troop of marines to fetch the survivors, hoping his brother is among them.
I was more than a little surprised at how quickly they went through marines when they arrived at their destination in the past. I figured it was going to be a pretty short movie if they kept getting eaten at that rate. It would have been too if they hadn't let a huge red therapod loose in the city trying to get back to the future.
This did not slow the number of marines getting eaten. It just gave the dinosaur access to more snacks. This term was actually used in the movie to good effect. For a movie that was only given 2 stars it was quite watchable. There wasn't too much gore, despite people getting eaten and the horror effects were used sparingly and well. If you enjoy budget science fiction 100 Million BC isn't half bad. K.