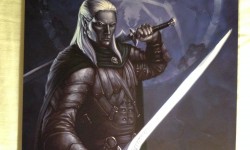 Friday, March 28, 2014 and the #ECCC opens at 10 am.  At 9:30 the Starbucks, which had a line out the door on day 3 last year, was full but not out the door.  Some 10 minutes later, coffee in hand, we made our way to the convention center.
Last year we were directed through the convention center, out the back side, around the block and through a park to the end of the line.  This year they mailed the badges out early, which is good because all three days sold out long ago.  So we went in, up the escalators, showed our badges to the friendly and helpful volunteers and were inside to the next line.  That line was mercifully brief too.
Shortly we were ushered into the massive vender room where rows upon rows of tables awaited us offering everything from leather corsair hats to My Little Pony plushies.  The mass of humanity waiting to go in flowed like a tsunami of people looking for that perfect item to take home or that final piece to complete a costume.
I saw some spectacular Scharazade corsets side by side with Lego box sets of the 12 Doctors.  There were swords and daggers next to booths offering T-shirts with just about every anime, manga or super hero on them you could imagine.
The artist's tables were equally varied and plentiful.  Brian Snoddy was there and very friendly.  He told me that other Magic: The Gathering artists were also around, like Phil and Kaya Foglio and Franz Vohwinkel.  We met Magic: The Gathering artist Brom and he was extremely nice.  He asked if anyone in our group was an artist and showed a real interest in them.
Let me say that I've always loved Phil and Kaya Foglio's art.  I've met them once or twice at Magic: The Gathering conventions and they are gracious.  What really impressed me about them though was here recently when they boycotted Dragoncon because the co-owner was an accused child molester.  They actually gave up on income for the sake of real principles.  We need more people willing to make a stand like that in this world.
I really enjoy browsing the artist's tables.  I love art and I like supporting artists.  Without exception artists I've stopped and chatted with have been friendly, passionate about their art and happy to talk about it and even give tips to others about how to improve their art.
At one table a series of gorgeous prints of Drizzt Do'urden holding Twinkle and Icingdeath drew me in.  I named them and said I was seriously tempted to purchase one.  Artist Tyler Walpole was sitting right there, it being his table and his art on those prints and he smiled and said, "I think you should go with that feeling."
I laughed.  He laughed too and added, "Of course I might be a little biased."
He was very charming and I did indeed go with that suggestion and got a beautiful print.  He kindly signed it for me and though I was tempted to chat for a while I didn't linger because there were other paying customers right behind me.
The only thing I didn't see a lot of, much to my dismay, was Godzilla merchandise or art.  Oh there were a couple of old action figures in one booth but with a major motion picture about to be released I had hoped to see much more representation of the king of the Kaiju.  I did find one booth that had some pretty choice Pacific Rim merchandise that made me happy.  Still, I had hoped Godzilla would have a larger presence
I must confess that the highlight of the day was meeting Nichelle Nichols.   There's a funny story about that too because I expected her autograph line to not only be super long but also to be starting an hour later than when I got up to the room where stars were signing autographs.
You see, I went to get Richard Dean Anderson's autograph as a gift for my sister.  When I got there the autographs were $85.00 each!  I'm afraid that's a little rich for my blood.  Shoot that's more than I paid for Sir Patrick Stewart's autograph, and I got a great story to tell out of that brief encounter.  Plus the line for Richard Dean Anderson was huge.
So I browsed around the room to see who else might be there and almost right next door was Nichelle Nichols.  Not only was her line shockingly short but also her autographs were a very modest $40.00.
Let me just say that she is as warm and gracious and absolutely beautiful in person as she is on the big screen.  She found something to say to each person who got an autograph and even spoke briefly with fans who just wanted to say, "Hi."  She is a generous and truly lovely person inside and out.
We went from there to sit in on her discussion panel.  Of course she was asked to tell the story about how she met Dr. Martin Luther King Jr.  Most Star Trek fans have heard the story but not the way she tells it.  When she tells that story she really makes it come alive.
Nichelle Nichols said she was nervous to meet such an icon as Dr. Martin Luther King Jr. and he was nervous to meet such an icon as Lt. Uhura from Star Trek.  Apparently they were quite good friends before he told her she could not leave Star Trek.  She said one of the things she loves about having worked on Star Trek was that she could go anywhere and she could always tell who the Star Trek fans were within a few moments of meeting someone and because of that connection she always felt she had something she could talk about with people.
She went on from there to tell the story about when she met Dr. Neil deGrasse Tyson.  The way she spoke, her facial expressions and her candor were so engaging and she was so generous with herself that it was a joy to just listen to her speak.   She said she was told this Doctor wanted to meet her and she thought she'd set up a time to meet, give herself a chance to prepare but no; he wanted to meet her right now.  So she was nervous.  "Then," she said, "This gorgeous man walks in, and I'm thinking–alright!"  She was so funny, just absolutely charming.
I don't know what tomorrow will bring but the Emerald City Comic Con is off to an excellent start if you ask me.  Oh! The Cosplay has been fantastic.  I'll get into that more in a later article.  KZ