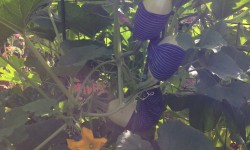 This last week the first fruits of the garden ripened and were harvested. It starts slow but as things get going there will be plenty more squash, herbs, tomatoes, cucumbers and other delicious things to add to our diet fresh from the garden.
Because this is the first year of the garden I haven't used any pesticides, weed killers or sprays of any kind. Just water, soil and sun have gone into these veggies. You can't get much more organic than that.
We got two zucchini, one cucumber, a handful of basil and two patty pan squash this week. The Vintage Wine tomato is absolutely loaded with green tomatoes right now and when they ripen we will have a lot of them. Likewise the spaghetti squash and pumpkins. The squash keep well in a cool dry place and should last well into winter if we get enough of them.
On my search for something creative to do with zucchini, instead of just zucchini bread (which we all love) I found a recipe for zucchini lasagna. Now there's an idea. The recipe called for using grilled zucchini in the place of the pasta (do I sense a low carb lasagna?).
Since I already have a really good lasagna recipe I thought I'd just substitute the zucchini (and since I had it some patty pan squash too0 for pasta in my own recipe and call it good. Things to keep in mind are that zucchini and patty pan squash have a lot of moisture in them, that's why they suggested grilling the slices first. I didn't want to fire up the grill just for some zucchini so after I used my mandolin to get thin slices I let them rest on paper towels for a while to absorb some of the excess moisture.
My mandolin is not adjustable so I only got really thin slices of squash when I used it. Since the texture is what you are looking for when substituting anything for pasta I'll have to see if this works or if I need to get a mandolin with an adjustable blade.
Zucchini Lasagna:
2 Zucchini
1 lg patty pan squash
4 cups mozzerella cheese
1 cup parmesean cheese
1 lg container of ricotta cheese (16 oz)
1 lb ground beef
1 tsp salt
1 tsp freshly ground pepper
1 tsp italian seasoning
2 tsp fresh basil
2 eggs
1 tsp worchestershire sauce
1 jar spaghetti sauce (when the tomatoes are ripe homemade is the way to go)
Rinse squash and basil in water. Cut ends off squash and run through mandolin so that you have a nice pile of thin slices of squash. Spread out on paper towels and blot to dry a bit.
Brown ground beef in skillet with salt, pepper, italian seasoning, and 1 tsp of the fresh basil sliced thin. In a medium bowl mix ricotta, parmesean and 1 cup of mozzerella with 1 tsp basil and 2 eggs.
Spray 10 X 19 baking dish with nonstick cooking spray. Spread 1/4 to 1/2 cup of sauce in bottom of dish and sprinkle a little bit of the cooked meat. Layer in the squash, overlapping the edges just like you would with lasagna noodles. Cover with half of the ricotta mixture, 1/2 cup of mozzerella cheese and 1/2 the remaining meat and 1 cup of the sauce. Repeat layers. Put a final layer of zucchini on the very top, cover with sauce and sprinkle with cheese.
Bake at 350 degrees for 45 minutes or until cooked through. If it's watery, try grilling the zucchini slightly or broiling it for a few minutes to drive out some of the excess water.
In the Nerdverse I'm way behind on movies I want to see and with the release of Ant-Man I'm even farther behind. I didn't get to Age of Ultron due to illness, nor did I get to Intersteller. Both are movies I will have to see on DVD.
I'm conflicted about Ant-Man. I truly hope they don't go down the route where he tries to murder his own wife because he's an abusive misogynist. Heroes do not try to murder their wives; heroes do not abuse women or any other people full stop. In fact heroes stand up for people who are traditionally abused or oppressed by the culture. That's why we love them.
I still want to see San Andreas and Jurassic World. I love a good disaster movie and I love a good monster movie. To be honest I love cheesy disaster movies and monster movies too. Which is why I was somewhat pleasantly surprised to discover there will be a third Sharktopus movie. Because there were so many unanswered questions from the first two. The third one, apparently, will be Sharktopus vs. Whalewolf. Yeah, tis going to be a festival of goofballery. But I'm a push-over for a good (or terrible) mad scientist movie. According to IMDB 7/19 is when it premiers.
Finally, news has been rather sparse for the Toho 2016 Godzilla. I keep hoping to hear more updates. It would be fantastic to have another Godzilla movie from Toho. Plus I don't want to wait till 2018 for the next legendary Godzilla. Also they just started filming the second Pacific Rim movie and I am impatient for them to finish it.
That's news from the garden and the less main stream nerdverse, more of an outlying nerd nebula, like a satellite nerd nebula than the nerdverse, but that's what I've got for you this week. K.