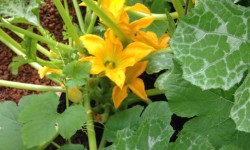 So i tried to grow my squash up cages to keep them all contained and well behaved. They grew up the cages, oh yes, and then they grew down the other side and started taking over the entire garden space. They look gorgeous and they are setting squash like there is no tomorrow. The squash are growing visibly from day to day. I cut up an old shirt to make little slings to support the squash so that their weight doesn't damage the vine before they ripen.
Saturday I went out to water and there were all manner of pollinators in the garden just loving all the gorgeous yellow squash blooms. The bumble bee colony that has taken up residence behind my favorite rose bush was well represented as were other species of bumble bees and yes, even honey bees. I was gathering some roses to put in a vase inside and a honey bee, already heavily laden with pollen really wanted one of the roses I had cut. I held it for her and she alighted and gathered even more pollen then flew off.
The cucumbers, likewise, have grown up and out of their cages. Although to be fair I used smaller cages for them. Actually I used a couple of really small, really old tomato cages I had from my long ago garden. Now they are vining up the tomatoes.
Speaking of tomatoes, the Vintage Wine is just covered with little green tomatoes. The Yellow Brandywine haven't set any fruit yet. They are just starting to flower so their tomatoes will come on after the Vintage Wine is slowing down.
There are only a handful of pea plants that have survived the squirrels digging in the garden. They are just starting to flower.
On a whim I picked up a packet of watermelon seeds. Yes it is really too late in the season to plant them but they were on clearance and watermelon is delicious. I put exactly two of the seeds in the ground and they have both come up. Now I'm just hoping for a little bit of an extended growing season. It could happen.
The elephant ear plants have new leaves on them. They were worrying me a bit since they were planted at the height of the heat wave and they hadn't put out any new leaves for a few weeks, but now they have and I am quite pleased. They are gorgeous plants. I believe I have a Black Magic and an Illustris but I'm just guessing since neither one came with name tags when I got them. To be fair I got them on super close-out sale. I'm hoping that with a heavy mulching I won't have to dig them up when the cold weather hits.
I also replaced the Gunnera and it is doing well. It was planted at the beginning of the heat wave and lost almost all of its original leaves to sunburn. One leaf survived and the crown has put out almost a dozen new leaves that are on short stems and protect the crown from the sun. it's looking lush if a bit short. I have high hopes that it will get huge next year if I can get it to winter over. Again I'm looking to mulch it heavily when the cold weather hits.
The hummingbirds are very shy this year. I've only seen the mother bird a couple of times and I almost never hear the chicks any more. I only heard them once a couple of weeks ago. The mallow bush and crocosima are still blooming though and I am glad because I know they like to sip nectar from those plants. The little mother hummingbird was also sipping nectar from my clerodendrum which has approximately eleventy-billion flowers on it this year.
the clerodendrum has such a lovely scent when it blooms and it makes the whole yard smell just gorgeous. It has gotten about as large as it is supposed to and it does shade a corner of the yard but I really like it. The only thing is that it does try to propagate underground so I have to keep plucking out the suckers that try to come up. I didn't know it would do that when I first got it.
A lot of this I'm learning, and figuring out, as I go along. Sure I consult the Google on occasion but mostly I've just jumped right in and I'm seeing how it works out. Next year I'm planting the squash away from the main garden so that when they vine all over the place they won't take over the other vegetables.
The other major thing I've learned so far is not to use the cocoa shell mulch in the main garden. Hazelnut shells are better. The cocoa shells mould and get very slippery when they are watered. Also they draw flies.
I will keep updating the growth of the garden and what I learn. By time this season is over I hope to have weekly photos documenting the garden.