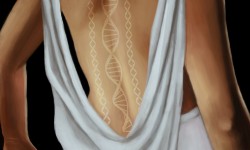 Work on the sequel to In The Flesh is moving along. Yes it is slow going. I'm not one of those authors who can just crank out hundreds of pages without a thought. In point of fact I'm realizing that my creative process takes a lot of thought and a lot of processing. I have to think the whole thing though before I can begin to write it. I have ideas and then need to play with them to see how they fit into the narrative. Sometimes they don't and then I have to, in the words of Stephen King, "kill my darlings." I also have my bs detector set to 11 apparently, so a lot of things I like don't fit well into the story line and I have to set them aside. I will share the following teaser of a part of a chapter that I've written for War In Flesh for your enjoyment but I make no promises that it will survive the multiple editing passes in this books future.
Nevertheless, please enjoy:
War In Flesh



Copyrighted material, all rights reserved
Thousands of miles north of Antarctica, beyond the shining jewel of Ce Acatl, just inland from the coast of the long narrow island that is all that's left of what was once the northern continent a battered, almost broken antenna picked up the weak signal. Ancient relays came reluctantly to life and deep below the surface lights began to flicker as emergency batteries sacrificed what little power they had left.

On the surface a mere handful out of dozens of hidden hatches opened through the debris that buried them. Up through the hatches solar collector arrays slowly surfaced. It took days for them to collect enough power to begin the power up sequence in deeply buried scientific research stations.
Subterranean bunkers long buried by the movement of earth and nearly flooded by raising water tables slowly revealed themselves to sporadic lighting. Sump pumps groaned and kicked on draining stagnant water where it stood in deep pools on the floors of the lowest levels. The scent of mold filled the dead air.

Slowly, one by one in the high tech labs computers came online, waking from their sleep state as the power came back up. They had been kept alive in a low power state since the cataclysm so long ago. Fans started to move and with them slow air currents began to swirl through the underground complex of labs and offices. Vats filled with nutrients far past their best by dates began to grow bodies, following centuries old routines.

Some of the cylindrical vats failed to come online. In a sub-basement some of the computers shorted out, falling to a combination of moisture and nibbling rodents that had encroached over the long years. Others powered up and began growing things even before the injectors inserted the organic material intended to be grown in them. Somehow their sterile interiors had been breached by microorganisms during their long dormancy.

The laboratories were climate stable by virtue of being so far beneath the surface. In such a protected place the denizens of caves made their home, just as they would any natural cave system. Bats found their way into the upper level. Mountains of guano became nourishment for cockroaches and other crawling things. Heavy, sealed bulkhead doors kept larger things out of the lower levels but were little barrier to microorganisms.

Weeks passed while the sump pumps and fans worked. Often they had to shut down to conserve what little power the solar collectors could provide. Every system in the buried complex was designed to protect the computers first, even the electrical system. With the emergency batteries dead and not enough power coming from the arrays to recharge them, if that were even still possible, the other systems regularly idled so that what power there was could be diverted to the computers.

Eventually the pumps got the floors dry and the fans refreshed the air, opening vents to the surface when what humidity and moisture sensors that remained permitted.

In the cloning vats things grew.
This is but a snippet, gentle reader, that I hope you enjoy. I have all of the ideas in place now and just need to see how they will hang together. Things always change as I write them and what I envision when I start out is rarely what the final tale is. Characters will do what they will and I am often just telling their story they way they would have me tell it. K.