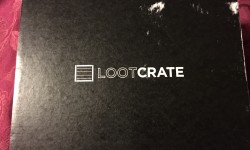 That's right, I'm a looter. Of course I am. Last month was the time travel Loot Crate. This month a grab bag of goodies. If you want to get your own Loot Crate delivered each month you can go
here.
Now this month we have a fabulous Mockingjay pin.
A Cute but Deadly mystery figure and magnet sheet which is pretty impressive.
Also included is a Vault Boy bobble head.
There's a Street Fighter comic
The loot crate pin, catalogue and a Shredder Shades (of Teenage Mutant Ninja Turtles fame). Not quite as cool as the Doctors Sonic Shades but more evil.
Now, there is going to be a Pink Elephant gift exchange at work here soon and anything I have not wanted from any of my Loot Crates has been going in a box. It's going to be awesome! And it'll up the nerd quotient of one (or more) of my co-workers.
Oh! And there's also an Anime Loot Crate if you like Anime.