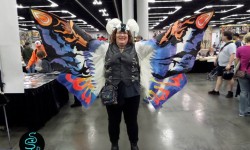 Wizard World's Portland Comic Con
happened at the Portland Convention Center in Portland, Oregon January 23, 24 and 25. Yes I'm a week behind and I do apologize, gentle reader. So many amazing things happened at the con and I did tweet one or two of them, and now I'd like to write them up properly. Friday was the first day of the con and due to work I didn't make it. One must keep one's job to continue to enjoy going to cons. Saturday I wore my
Mothra
cosplay and Sunday I wore my steampunk cosplay. I'm afraid I didn't get any pictures of my steampunk cosplay, which is a shame because I finally put together something really nice. Next time for sure! Speaking of cosplay there were some amazing ones at the con. There was a classic Catwoman with a Penguin that was fantastic. I also saw another Popeye. There was an adorable little Midna as well as a couple of Zeldas and several Links.
The booths were amazing too. I even bought some comics at this con, all of them Doctor Strange. The best booth of the con, IMHO, though was the Rock Rebel table. I was walking by, on my way to another booth I wanted to take a look at and I stopped in my tracks because there, on the table, were several different bags with classic monsters on them, and they had matching billfolds.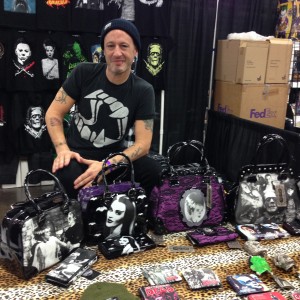 He was thrilled to discuss Godzilla and the Munsters while I was selecting my bag. He loved the Gareth Edwards Godzilla and was surprised and excited to hear that Toho is planning on their own Godzilla reboot this year. We also discussed how Lillian Munster's dress was so tight she couldn't walk in it and had to be carried to where she would stand on set. Then he told me about how the Munsters drove off in the Munster Koach, went joy riding on the freeway in full make-up one day and caused quite a commotion.
It's so much fun to meet another fan. But I digress, he had Walking Dead totes and bags as well as shirts and even Addams Family, Jaws and Edward Scissors Hands stuff so there was something for everyone but what really caught my eye were the bags. These aren't just cheap bags thrown together either. He was very proud of them and showed me how they are lined with different fabric and patterns. I simply love my bag and I love the billfold even more. The bag holds everything I could ask for, and although it could use a couple more pockets for organizational purposes, it is plenty spacious while still being a good size.
Now generally I'm not much on impulse buying, although at a con I do make exceptions. I've also needed a new bag since one of my favorites wore out just before Christmas so I've been on the look-out for a nice one. These are spectacular and they are unique pieces. I meant to only carry it for cons but I haven't had time to change out to one of my more normal ones all week (and you thought it was just blogging that I get too busy for).
I'm speculating here, but judging by his reaction I was one of his first customers and he cut me a great deal on the bag and matching wallet combo. I asked him what made him think of this and he said that he'd been going to cons for a while and what he noticed was that while, yes, there were a lot of younger people there were also a lot of mothers there too and, he said, he got to thinking, these are the women who are kind of neglected fans and they are the ones who have jobs and therefore discretionary income to spend on unique items that reflect their own fandom.
I think that is just brilliant. I really found myself hoping he made bank because he's right and there is money to be made and frankly, I'm tired of being overlooked at cons and stuff because I'm not a guy or a hot 20 year old.
Since he wasn't all that busy and I had other booths to check out I asked if he'd mind if I stopped back later to ask a few more questions. He was quite happy to do that and said I could stop by any time. The good news is that when I swung back by, he was absolutely mobbed with customers. I was very happy for him.
The next thing I want to talk about is S. Shadow's Natural Photography. I was fortunate enough to be noticed by their photographer at the Rose City Comic Con, which is where I debuted my Mothra Cosplay. Well he found me again at the Portland Comic Con and took another couple of pictures and they are gorgeous. If you are in the Greater Portland Metropolitan Area and you want some nice photographs taken I would recommend him.
The
Weta
Booth was huge and well worth a browse. One of the members of my party (we actually had, very loosly, a fighter, a spellcaster, a healer and a beserker) got a pouch of the coins like the ones used in the Hobbit and a replica of
The Key to Erebor
. A must see for any
Hobbit
fans.
I got my copy of How To Survive A Sharknado signed. That is a very funny and useful book. Not only does it even have some practical advice but it's actually an episode guide for all of the Sci-Fi Sharknado-like movies. Very clever that.
Of course it wasn't until Sunday, when I was wearing my Steampunk cosplay that I stumbled upon a plush Godzilla and a plush King Ghidorah. Why, oh why, couldn't I have found that when I was being Mothra?
We also sat in on Sacha Rioz's panel discussion. He was delightful. Trying to get things going the MC, who clearly doesn't know much about the show (Grimm), asked Sacha, "So you're here for the con, is there anyplace you've found that's kind of special since you've been here?"
Of course the audience was tittering as this question developed and Sacha was kind of grinning. He answered, "We film here." The audience burst out laughing.
The poor MC just looked out at us and said, "And you just let me go ahead and dig that hole."
Sacha also said that he didn't know that much about cosplay, the MC asked him about it, but he found that most of the time, if he guessed "Doctor Who," he was safe. That was very funny too. During the Q & A several cosplayers asked questions and he guessed Doctor Who on them. Only one was actually Doctor Who but there was a delightful Arthur Dent from Hitchhikers Guide to The Galaxy, which is at least British.
I would have to say that the Wizard World Portland Comic Con was a rousing success for us. We had a ton of fun, found some great items and just really enjoyed every minute there. I hope others who went also had fun and if you're considering going to a con, I would say you should do it. It's fun for the whole family. K.
P.S. if you're looking for a really nice corset for your Steampunk cosplay, or just in general you might check out Ms Martha's Corset Shoppe (I'm hoping to save up for The Warrior, myself).
Some bonus photos: